San Gabriel Valley Tribune (West Covina, CA)
April 8, 2009
Section: News
Local
"Monk" cloisters in Downtown Covina

Daniel Tedford, Staff Writer
COVINA - Producers and directors have chosen Downtown Covina to shoot parts of the final season for the USA Network show "Monk." Restaurant Casa Moreno and the Covina Arts Center both served as sets for filming interior and exterior scenes Tuesday and Wednesday, said Covina business license technician Steve Painter.
"Monk" stars Emmy- and Golden Globe-winner Tony Shalhoub as Adrian Monk, a private detective who works with the San Francisco Police Department on homicide investigations but has an extreme case of obsessive-compulsive disorder.
"I think I have become a little more observant in the way Monk is so focused on the smallest details," Shalhoub said Wednesday. "When I am examining something, I seem to have more patience for it."
The show relies on the quirkiness of its characters to drive the story line, he said.
"It adds diversity and variety to television. It is more fun to do a character than to be just a mouthpiece," Shalhoub said. "There are some (television shows) that are about the headlines, or the story ... or the high tech as opposed to being about the odd, or, in our case, funny characters. And that is the thing: all the characters on 'Monk' are slightly off."
In order to be sensitive to businesses and residents, Covina has strict rules about filming, said Painter.
But persistent producers are allowed to shoot from time to time.
"At that point it is just a haggling session," Painter said. "We look at what they want and what we can provide and meet somewhere in the middle."
The "Monk" crew needed to shoot scenes in a theater, and producers really liked the location, they said.
"It's nice to have filming back in Covina," Painter said. "I did a little walk through. The stars are out and about."
The show premieres new episodes this summer. Producers do not yet know when the Covina episodes will run.
daniel.tedford@sgvn.com
(626) 962-8811, Ext. 2730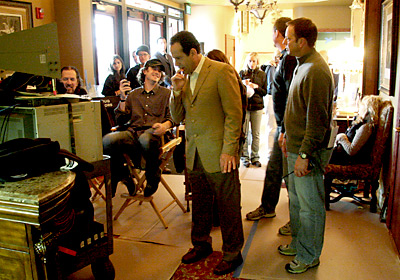 Actor Tony Shalhoub, watches the director's monitor
during the filming of the television show, "Monk",
at the Covina Performing Arts Center in Covina,
Wednesday, April 8, 2009.
(c) 2009 San Gabriel Valley Tribune. All rights reserved. Reproduced with the permission of Media NewsGroup, Inc. by NewsBank, Inc.