Character Sketch
Alejandro (Alex) Garcia first appeared on GH in the early 1990s as a detective in the Port Charles Police Department. His assignment at that time was tracking down missing children (in particular Stone/Mike, Jagger's brother.) He was soon promoted to being Sean Donely's right hand man. This was back when Garcia was played by George Alvarez. Later Garcia became a little smitten with Sonny Corinthos' wife, Lily. Probably because Lily was the only one who pronounced his first name correctly. When she died he was a little devastated. He left town, but returned later with little to do.

In December 1999, Alex Garcia was recast with Eddie Velez in the role. He has been appearing primarily on Port Charles, but also on General Hospital. On PC he's on the spot whenevre a crime is committed, and he's pretty good at making arrests. He's arrested Lucy, Jack, Arianna, Ian, Jamal, Frank, and wanted to arrest more than that. Unfortunately they're usually out on bail or technicalities within twenty-four hours. On GH he's mostly seen in the Police Deparment, doing routine police tasks. He was the first person to find Sonny and Company after the Christmas Eve Massacre. During Port Charles Fate Garcia arrested Lucy for changing the DNA results to make it look like Eve and Ian were dead. Mac let her go.

Frankie "Dishpan" Santana first appeared on the A-Team during the fifth season 1986/1987. The nickname had something to do with his profession as a special-effects expert. Frankie was working on one of Hannibal's monster movies. He was also a mole for Hunt Stockwell (He was being blackmailed. Stockwell was withholding disability checks for Frankie's father). Frankie happily gave bad advice on any subject and talked too much at inopportune moments. After the team was captured by Stockwell, Frankie was forced to join the team.
Actor - Credits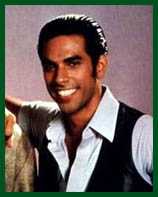 Initial research was done on the Internet Movie Database. Stage and more acting credits added after Internet search; mostly Google. Titles may be linked to useful pages about those works.

Eddie was born Edwin Velez on June 4th 1958 in New York City. We were pleased to see him show up on our Soaps, as we were just becoming familiar with his earlier work on The A-Team.

Traffic (2000)
(Feature Film) - Agent Johnson

Just Shoot Me (5/16/00)
(Television Guest) "Fast Times at Finchmont High" - Miguel

A Father's Choice(2000)
(Television Movie) - Detective Cortez

Port Charles"(1999-present)
(Television Series) - Det. Alex Garcia (#2)

General Hospital (1999-present)
(Television Series) .... Detective Alex Garcia (#2)

S.O.F. Special Ops Force (4/15/99)
(Television Guest) "The Vestige" - Bartolomew Sanchez

Seven Days (2/24/99)
(Television Guest) "Parkergeist" - Rene

Running Woman(1998)
(Feature Film) - Reuben Alvarez

Urban Justice (a.k.a. Under Oath) (1997)
(Feature Film) - Ray Ramírez

Most Wanted(1997)
(Feature Film) - Sergeant Peyton

The Parent 'Hood (11/9/97)
(Television Guest) "Don't Go There" - Det. Perez

Night Man (10/13/97)
(Television Guest) "I Left My Heart in San Francisco" - ?

Pacific Blue (09/21/97)
(Television Guest) "Sandman" - Eddie Montez

Gun (4/12/97)
(Television Guest) "The Shot" - Detective Jiminez

JAG (2/28/97)
(Television Guest) "The Game of Go" - ?

Walker, Texas Ranger (2/24/96)
(Television Guest) "El Coyote: Part 2" - Fontemuro

Walker, Texas Ranger (2/17/96)
(Television Guest) "El Coyote: Part 1" - Fontemuro

Live Shot (1995)
(Television Series) - Ricardo Sandoval

High Tide - (11/6/95)
(Television Series) "Down South" - Roacha

The Commish (2/9/95)
(Television Guest) "Accused" - Tommy Le Grange

A Passion to Kill (1994) (Feature Film) - Morales

Bitter Vengeance (1994)
(Television Movie) - Carver

Murder, She Wrote (11/20/94)
(Television Guest) "Crimson Harvest" - Pete Grimaldi

Hardball (9/4/94)
(Television Guest) "Pilot" - Diego Escobar

Body Bags (1993)
(Television Movie) - Player (Eye)

From the Files of Joseph Wambaugh: A Jury of One (1992)
(Television Movie) - Tommy Alomar

Danger Island (1992)
(Television Movie) - Vic

Flying Blind (10/11/92)
(Television Guest) "The Week of Living Dangerously" - Paco

Veronica Clare (8/13/91)
(Television Guest) "The Boxing Story" - ?

Drug Wars: The Camarena Story (1990)
(Television Mini-Series) - Ramon Varona

The Trials of Rosie O'Neill (1990)
(Television Guest) ? - Mac Delgado

Romero (1989)
(Feature Film) - Lieutenant Columa

Rooftops (1989)
(Feature Film) - Lobo

True Blue (1989)
(Television Series) - Officer Frankie Avila

Shannon's Deal (1989)
(Television Movie) - Chuy Vargas

Tour of Duty (1/31/89)
(Television Guest) "Non-Essential Personnel" - Lt. Escobar

Split Decisions (1988)
(Feature Film) - Julian 'Snake' Pedroza

Trial and Error (1988)
(Television Series) - John Hernandez

Midnight Caller (1988)
(Television Guest) "?" - ?

Empty Nest (1988)
(Television Guest) "Food for Thought" - Jose "Joe" Martinez

The Women's Club (1987)
(Feature Film) - Carlos

Hill Street Blues (3/3/87)
(Television Guest) "Sorry Wrong Number" - Ramon Mendez

Extremities (1986)
(Feature Film) - Officer #1

C.A.T. Squad (1986)
(Television Movie) - Carlos

The A-Team (1986-1987)
(Television Series) - Frankie 'Dishpan' Santana

Doin' Time (1985)
(Feature Film) - Wetback

Children of the Night (1985)
(Television Series) - Tom

Charlie & Co. (1985)
(Television Series) - Miguel Santana

Double Dare (1985)
(Television Guest) "?" - ?

Berrengers (1985)
(Television Series) - Julio Morales

Repo Man (1984)
(Feature Film) - Napoleon "Napo" Rodriguez

Summer Fantasy (1984)
(Televsion Movie) - Stratis

For Love and Honor (1983)
(Television Movie) - Lucas

Bay City Blues (1983)
(Television Series) - ?

Cagney & Lacey (1982)
(Television Guest) "?" - ?

Capitol (1982)
(Television Guest) "?" - ?

*****
Producer Credits
Scattered Dreams: The Kathryn Messenger Story (1993)
(Television Movie) - co-producer
Links
Eddie Velez Page - Character Actors
Edddie Velez Page - Live Shot
Eddie Velez on e-Bay
Eddie Velez - Google Search