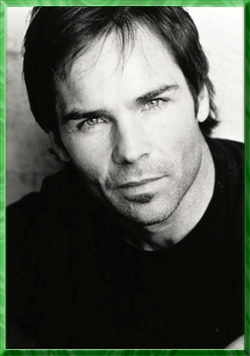 Update
Sunday, March 15th 2009
Jay Pickett hasn't appeared on General Hospital in his recurring role as Detective David Harper so far this year, but I trust he'll be back in Port Charles soon. There's always somebody who needs arresting. In the mean time Jay made an appearance on the Showtime series Dexter and he also co-stars in the Antonio Sabato Jr. film Drifter: Henry Lee Lucas to be released this fall.
Jay Pickett on Dexter
It's not new news anymore, but I attended the annual GH Fan Club Weekend in L.A. this past summer. I got lots of pictures and most importantly an opportunity to speak with Jay.
Here are some of those pictures (click to make them larger):
| | | | |
| --- | --- | --- | --- |
| Jay Pickett at the 2008 GHFCW | Jay "arrests" a fan | Jay and I | Jay enjoys a beverage |

I've finally transcribed the interview I did with Jay that weekend. Here it is:
Jay Pickett Interview
July 2008
TERESA: I just want to ask you a few questions for the website. If… when they give Harper a storyline what would you like it to be?
JAY: I like the way you said that. You know, first of all, I'm happy to be on the show and to be playing Harper and doing what I'm doing. It's been great honestly to be back in the Port Charles family. But it would be great to have a story. I'd love to have a love interest. That might be the first thing I'd pick.
TERESA: Anybody in particular in mind?
JAY: There are a lot of beautiful women on General Hospital. I'd be happy with anyone.
TERESA: It always seems like two men are after them though.
JAY: Yeah, exactly. That and I'm actually trying hard to have Harper be a tougher cop: at least, if nothing else, to be tough. To actually have him solve a crime would be cool. So I wouldn't be picky, you know. I think just a story would be nice, but in the mean time just playing Harper going around arresting people is cool, too.
TERESA: So how did it come about? Did they come looking for you?
JAY: Yeah, I got a call from out of the blue asking if I would be interested in playing this role, the Harper character, and I said, "Of course." It's nice when it comes to you like that.
TERESA: It doesn't usually?
JAY: Well, not usually, but in this instance I've known Bob Guza for a long time and they know my work from Port Charles. I appreciate them acknowledging that work and giving me this role, I mean without having to read for it.
TERESA: You played Alcazar when Ted King was sick, right? Was it based on that at all?
JAY: I think that was part of it. I think Bob Guza was trying to find something for me and I appreciated him doing that. Actually, I was supposed to do more with Alcazar, but Ted came back sooner than they thought. So I think Bob wanted to give me something else. He said he was looking for something and Bob is one of those guys when he says something he means it. He's a man of his word. So the Harper thing came along and he handed that to me.
TERESA: All right. Now he's just got to make it bigger.
JAY: Exactly. You've done great so far Bob, now just expand it some.
TERESA: Right.
JAY: Right.
TERESA: Do you and the other former Port Charles people get together often?
JAY: Some of them like Brian and Erin. We live fairly close to each other and we've got little boys close to the same age and so we've gotten together a couple of times. I talk to Marie on the phone occasionally. Of course Michael Dietz is still one of my very best friends. Thorsten. I'll talk to Thorsten every once in a while too. So I keep track of them.
TERESA: Isn't he in New York now?
JAY: He is, yeah.
TERESA: Do you know of any other Port Charles people who are going to be migrating to GH anytime soon?
JAY: No clue.
TERESA: I guess I'm going to let you go. Kin's waiting for you.
JAY: I appreciate that. I appreciate you doing the website.
TERESA: I'm happy to do it actually my sister and I originally put it together back in 2000. She passed away in 2001.
JAY: I'm sorry to hear that.
TERESA: I hadn't done anything with it in a few years and then you came back on to GH and I thought, well I better fix that up.
JAY: I'm glad you did. You updated it nicely. Do me a favor and email anything that you want.
TERESA: Anything?
JAY: Any questions. Honestly, if I can help you with anything, yeah.
TERESA: Okay. Thank you.



Jay Pickett was born February 10th 1961 in Spokane Washington. He grew up in Caldwell Idaho, where he graduated from Vallivue High School. He received a B.A. in acting at Boise State University and an M.F.A. in acting from UCLA, appearing in theatrical productions at both schools.
Jay is five feet, eleven inches tall, has brown hair and green eyes. He is a self-confessed neat freak and according to him, he's always been that way. He enjoys most sports, including football, basketball, baseball and skiing. He is also an expert roper and western rider.
In the late eighties he started getting small guest roles in television series and movies. Have a look at his credits. But it's hard to make a living that way and Jay had to occasionally take other jobs. He drove the Super Shuttle in California and once picked up Nicholas Pryor (Victor). The seasoned actor was nice enough to give a young Jay some advice. (And, no, I don't know what it was.) Like his character, Jay also used to substitute teach on occasion.
In the nineties he continued to make guest appearances on prime time television, including Matlock and a Raymond Burr-less, Perry Mason movie. He also appeared in the feature film Rumplestilskin (with DS9 actor Max Grodenchick) and had his first soap opera appearance as Dr. Chip Lakin on Days of Our Lives.

He's been married since 1986 to wife Elena, a national sales manager. He has two daughters, Maegan and Michaela. For Christmas, Jay and his family always drive
home to Idaho and Oregon to see both sides of the family. No Los Angeles Christmas for them.
Jay was with Port Charles from its premiere in 1997 to its demise in 2003, delivering consistently great performances in the storylines he was given.
Apparently after PC, with the exception of a couple of TV appearances, Jay was off the acting radar until a 2006 General Hospital appearance. He stepped in for a day as Lorenzo Alcazar, replacing the ailing Ted King. This was enough to get him a shot at the recurring role on GH of Detective David Harper in 2007. They haven't given him much to do yet, but Harper pops up a few times a month to try and bring a little law and order to Port Chuck. (Which is kind of like trying to empty a lake with a thimble.)
And that's about it... for now.
There's not much to the David Harper story... yet. He's a recent addition to the PCPD, the most singularly ineffective law enforcement entity since Barney Fife. Yes, Harper gets to question people occasionally, but he rarely gets an honest answer. Once in a while a suspect will spend the night in lock up, but no one has been succesfully prosecuted in recent memory. Harper spends most of his time trying to ferret out information on crimes, while the rest of PC's unconcerned citizens parade their personal affairs through the interrogation room and basically ignore him. He can occasionly be seen in the background rolling his eyes and wondering why Mac is giving him a paycheck.
Jay Pickett's first appearance as Det. David Harper on General Hospital

Jay Pickett's latest appearance as Det. David Harper
on General Hospital
(Sept. 2008)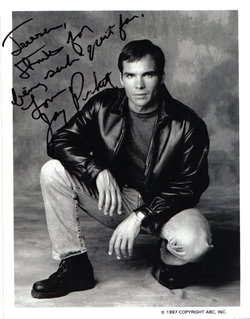 When I first saw Port Charles (at its evening premiere in 1997) I was more than a little impressed with one Frank Scanlon and the fellow portraying him. The character was smart, brave, sexy and likeable. For those nor already in the know, I'mgoing to give you a little history. Frank is the oldest son of Mary Scanlon (Pat Crowley) and her first husband. Frank has one sibling, Joseph Parnell Scanlon (Michael Dietz, David Gail, Alex Mendoza). Frank's father was an abusive alcoholic, and Frank acted as the responsible male family member at a young age, looking after his younger brother and trying to hold things together. He earned a football scholarship to Notre Dame, where he hoped to become a doctor. He suffered a knee injury and his father passed away, so he returned to Port Charles to help support the family. He helped his brother Joe enter medical school and become a doctor. He became a substitute science teacher and a paramedic.
| | |
| --- | --- |
| | The first night of the show, Frank helped to rescue his brother and the other interns from crazy Greg Cooper who was holding them hostage in an unfinished part of the hospital. Frank promptly became involved with intern Dr. Julie Morris (Lisa Ann Hadley), who rented the basement in the Scanlon house. Frank and Julie stayed together despite the fact that he found out she was lying about her true identity. She was really the daughter of the famous Dr. Bennett "I am such a jerk" Devlin. (Edward Albert) Of course, when he came to town, he tried to break up Frank and his little princess, Julie. There's probably many a moment when Frank wishes he had taken that coaching job and the beamer and saved himself a lot of trouble down the line. But Frank was immune to Devlin's string-pulling and decided to stay with Julie. |
Frank then got involved in the life of teenager Lark (Anastasia Horne), a student in one of his claseses. Lark was neglected and abused by her alcoholic mother. But she was mistrustful of Frank's helping hand, sure at first that he could only be interested in her sexually. When her mother had to be carted off, Lark came to live with Frank as a foster child, much to Julie's chagrin. Frank's desperate efforts to help Lark came to a climax when she threatened to jump off the GH roof. But it was Frank who fell when he tried to rescue her.
| | |
| --- | --- |
| Frank hovered on the brink of death for days, until Bennet Devlin secretly gave him an experimental drug, DL56 stolen from Karen Wexler and Jake Marshak, that regenerated Frank's nerves. Unfortunately it also caused addiction and changes in brain chemistry that made Frank increasingly violent and cranky. Which might be why he didn't notice that Julie was becoming increasingly violent and cranky too. Her father was the first of the General Homicide victims, and the mystery coincided with Frank's addiction problems with DL56, which he got first from Devlin and then from Chris Ramsey. | |
By the time Julie was revealed as "the killer" brainwashed by Greg "It's like Visa, I'm everywhere" Cooper, Frank's addiction was out in the open and Karen had helped him to kick the habit. Julie went to prison and Frank was unaware that she was carrying his child.
| | |
| --- | --- |
| | A shaky Frank, still moody and temperamental, was then drawn into the life of Courtney Kanelos, Joe's former paramour (and Frank's) who had this cute kid with cancer, Neil, whom she was passing off as Joe's son. She wanted Joe and she wanted Frank to help her get Joe away from Karen. So they came up with a plan to make Karen think Joe was a pervert. It included Frank and Courtney keeping Karen under constant observation from a seedy apartment across the street. It almost worked, but Joe and Karen eventually proved immune to the manipulations. |
However, when Neil got sick again, it was revealed (to no one's surprise) that Frank and not Joe was Neil's real father. For some reason Joe got mad at Karen for this and it did break them up. But by then Courtney had decided that she was really in love with the real father of her son, Frank. And they got themselves an apartment and settled down to pretend domesticity. Frank (still a bit on the wild side) got himself into trouble, gambling and what not, to support his new family. It was also reavealed that Julie had delivered a child that had been adopted by Scott Baldwin. But little Christina was of course Frank's daughter. He wasn't going to tear Christina away from her family, but he did want to at least see his child. He got one visit and was bonked on the head by crazy Julie, who kidnapped her daughter and was never heard from again.
| | |
| --- | --- |
| Frank became increasingly stable, more and more like his former nice self, settling down to work at the Recovery Room and as a Paramedic. Courtney stayed true to form and was scheming, greedy and deceptive. Eventually she alienated Frank, by, among other things, getting him arrested for harboring a fugitive (the innocent Jamal), and revealing to a seedy newspaper that Joe had been exposed to the AIDS virus. Courtney's naughty deeds were laid out for the town to see on video at one of Amanda Barrington's fancy parties. | Frank and Christina |
Courtney left town in disgrace, and went back to Europe to pursue her career as a party planner. Frank kept custody of son Neil who was none too happy with his Mom.


April 2001
This story was the second book presented in Port Charles' telenovel format. The first was "Fate" which did not involve Frank much, although they did show some of the beginning of his courtship of Karen during that time. This included a condiment fight you could see coming from a light year away.
The "second book" however focuses the story on Frank and Karen. The two of them, along with Rhonda and Scott attend a charity auction where they spot a very old computer. Rhonda comments that it was like one her father had and Karen said she liked the computer. Frank buys the computer as a gift for Karen. They try to put it in her place, but it doesn't fit. Frank takes it to his garage where he devotes a lot of time to flirting with Karen and getting the computer in working order.
| | |
| --- | --- |
| Karen goes away to attend a special medical seminar (Marie Wilson's maternity leave) and while she's gone Frank begins to exchange messages with someone through the computer. The creepy computer, Nellie, can do this sans modem, or even being plugged in. He is talking with "Cookie" a troubled teenager. He attempts to be her friend and give her good advice, as she deals with the death of someone close to her and starts drinking. | |
When Karen gets back Frank is beginning to be aware that "Cookie" believes that the year is 1973, and he may be communicating over time. Karen doesn't believe a word of it and thinks Frank is obsessed.
She worries about his behavior and her mother's alcoholism and her own fear that she will start popping pills again to deal with stress.
Frank tries to prove Cookie exists, by carbon-dating a carving at Kelly's and having Cookie leave a message behind a brick in the wall. Convinced himself, he goes on a bender to deal with the fact that he is face to face with a time anomaly. Karen, dealing with the secret that she is a "match" for the liver-needin' Arianna, almost dumps Frank for his behavior. But they make up and consummate their relationship. She decides to help Arianna and warns Frank to be careful and not screw around with time. He forgets her advice and i.m.s a drunken Cookie, not to go to the shcool dance and sleep with that boy she likes. As Karen walks through the hospital she fades out of existence. Frank's advice has caused Karen never to be concieved.
| | |
| --- | --- |
| | A frantic Frank searches for a Karen that no one else remembers. He finds a destitute, drunken Rhonda who never had a daughter and was carted off to a mental ward in 1973 because she thought her computer talked to her. Family and friends are ready to throw a butterfly net over Frank, who pretends everything is cool and convinces Ian and his imported new-age Voo-Doo doctor, "The Chief" that Karen is the key to saving a fading Arianna. The Chief provides a drug that can send Frank back in time, more or less, to 1973. |
Once there he flounders around in the past, but somehow manages to set things straight and return to the present which now once again contains Karen Wexler and his chance for true love.

Sure the "Time in a Bottle" stuff was a little out there for a daytime drama, but not compared with the storylines to follow most of which did not feature Frank Scanlon. Starting with "Tainted Love" Port Charles got super weird with vampires and angels and slayers and witches and freaky candles and a punk ass bitch drummer named Ricky Garza who tries to make time (ultimately successfully) with Frank's woman.
In "Torn" (the eighth telenovel) Frank compensates by succumbing to "The Avatar", wearing a stylish dark cloak and kicking Ricky's skinny butt. He shakes off that demon, but in due course he falls prey to the epidemic of vampirism in Port Charles. This puts the kibosh on his relationship with Karen and any further significant contribution to storylines. Port Charles permanently faded into the past in October of 2003.
Frank is revealed as the Avatar



Credits found on the IMDB, ABC.com and a google search. Additional information on screen or theater credits would be greatly appreciated. Titles are linked to additional information about the project.
General Hospital (2007- 2008)
Television Series - David Harper
Jay Pickett's first appearance as General Hospital's Detective Harper was on October 9th 2007. He's the new kid at the PCPD. So far his contributions have been minimal, but he asks really good questions and he looks really good doing it. "I'm new to the department, so I'm still trying to figure out how things work." - Det. David Harper
The Clear Horizon (2008)
Short Film - Bobby
A short which has thus far only been seen at the Hoboken Intenational Film Festival on June 1st 2008. "Fleeing the FBI and his most notorious client, a tormented defense attorney escapes on his sailboat, but when he washes up on the shore of a Mexican penal colony, he discovers that the past he desperately wants to forget... has not forgotten him." — IMDB
Saving Grace (2007)
Television Guest "Would You Want Me to Tell You?" - Eddie
Aired August 20th 2007.
General Hospital (2006)
Television Guest - Lorenzo Alcazar
On March 23rd 2006 Jay Pickett stepped into the role of Alacazar for an ailing Ted King. YouTube video and an interview.
Landslide (2004)
Television Movie - Stewart Hancock
By all accounts a truly terrible TV movie, but I believe Jay gets to play the bad guy in this one so I'm going to ignore the warnings and pick it up anyway. It's available on DVD, but they've changed the name to Buried Alive. Yes, that's much more subtle.
Port Charles (1997 - 2003)
Television Series - Frank Scanlon
It's gone now, but you can still see repeats on Soapnet every once in a while.
Rumpelstiltskin (1996)
Feature Film - Russell Stewart
Here's a short review. Not many people liked, but I believe Jay's character dies toward the beginning of the film so it's not his fault.
Hotline (1996)
Television Guest "The Gardener" - J.M.
A young man (Jay Pickett) is hired as a live in gardener for a women and her older husband but it turns out that he has been hired for more than his horticulture abilities.
A Perry Mason Mystery: The Case of the Jealous Jokester (4/10/95)
Television Movie - Unknown
Starring Hal Holbrook and not Raymond Burr. I don't know what Jay does in it. Aired on April 10th 1995.
Days of Our Lives (1991-1992)
Television Series - Dr. Chip Lakin
Jay was only of this soap briefly but apparently got to have a fictional fling with a daytime diva almost 20 years his senior. "In 1992, Julie (Susan Seaforth Hayes) was nearly killed after a bomb planted at a museum party by Raffi Torres exploded. Julie was caught in the blast, but lived after a life saving procedure was performed by Dr. Chip Lakin, who she later dated." — From Soap Central Character History
Matlock: The Witness Killings (1991)
Television Movie Guest - Gary Andler or Doc
Jay's character is listed with one name on the IMDB (Gary Andler) and another on TV.com (Doc). Hallmark shows Matlock a lot, so I'll solve this mystery sooner or later. Originally aired as a TV Movie. Reruns are frequently shown in two parts. Originally aired October 18th 1991.
Eve of Destruction (1991)
Feature Film - Man in Jeep
I'm guessing it's not a very big role. Released January 18th 1991.
Jake and the Fatman (1991)
Television Guest "Let's Call the Whole Thing Off" - Johnny Burgess
McCabe is prosecuting Robert Burgess - a big crime boss, when his main witness is murdered on his way to court. Jake tracks down Burgess' ex-girlfriend, and has to bring her to court before the judge dismisses the case. Aired January 2nd 1991
Rush Week (1989)
Feature Film - Parker
Mr. Belvedere (1989)
Television Guest "Homecoming" - Keith Elliot
Synopsis: With Homecoming days away, Heather finds herself considering being dateless that is until she meets Keith Elliot and is swept off her feet, that is until he tries to rape her. Meanwhile, Wesley is making a video about Mr. Belvedere's career but is having a hard time getting anything interesting. Aired November 18th 1989
China Beach (1988)
Televsion Guest "Waiting for Beckett" - Filmore Cross
Cherry is taken in by a deserter (Jay Pickett) who claims to know her brother, and who is pursued by a determined officer from the CID. Aired May 18th 1988. You Tube Video
Rags to Riches (1987)
Television Guest "Russian Holiday" - Alex Leskov
The Russian diplomat and his son (Jay Pickett) visit. Rose decides he's too stiff and needs to be shown a good time. Rose sneaks him out of the embassy without anyone's knowledge or consent. He becomes very infatuated with her and decides he no longer wishes to return to Russia. Aired December 11th 1987.
Dragnet (1987)
Feature Film - Role Unknown
Released June 23rd 1987


Bonus Feature
A short film directed by Jon Lindstrom
Starring Jay Pickett and Julie Pinson
A Chance Encounter


This page was written by Teresa and Tracy Murray, T 'n' T, copyright 2001-2008. Page design is entitled "Spotlight in Green". General Hospital and Port Charles are owned by ABC/Disney and no one is saying otherwise. This page is Jay Pickett's for the asking. Should he wish it out of existence we would willingly wring its little neck. He could, theoretically, have us transfer it to his domain www.jaypickett.com, that we deduce his accountant got him for his birthday. Send comments to

T 'n' T

.