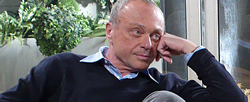 Elegy for Stanley Kamel
by Barb (Bflogal)
Two great men have passed
The day Stanley Kamel died.
He is sorely missed.
The actor we've loved
On our screens for many years
Is no more with us.
The good doctor too--
His lonely chair will haunt us.
Monk won't be the same.
A day doubly sad:
When one shared heart stops beating
Two great men are gone.

Dr. Kroger's Haiku Blues
by Aldeberan
He can't help some days
but to dream an island calm
and unreachable...
No phone, no dock--a
clear dome to the skies to stop
those parachute tries.
No waiting room, no
magazines, no clashes of
organizing schemes.
No date prescriptions,
overdoses, phobias
or new neuroses.
No showtunes, and no
more cleaning. No drinking apes'
orange juice leavings.
For sure no double
sessions, no interruption
of tennis lessons.
And no more earthquake
trauma; no more finding new
assistant drama.
No granola theft
accusation, and no dis-
association.
No retainer, no
twenty-four/seven, just a
calm, quiet heaven...
A peaceful island
life, with son, daughter and the
soon-to-be new wife.
No more Adrian...
no more clues, threshhold events
so long overdue?
No cases closed, no
detection--Monk's life one of
sad introspection.
No life rebuilt, no
insight to share, no search for
joy from pure despair.
And no justice for
Trudy, no closure found, Monk's
tears his only sound.
A broken man by
a grave's grassy slope, no peace,
and no chance for hope...
A hearfelt sigh, his
purpose clear--the island must
wait another year.
He opens his eyes,
meets Adrian's gaze and the
dream isle melts away.
He takes a deep breath,
begins again--session on,
may the best man win.
~~~~
But still on some days,
that dream island beckons, calm
and unreachable...
Inspired by "Big Reward"
Dr. Kroger Haiku
bi innardamok (Tom M.)
One speaks. One listens.
Diametrically opposed,
yet in harmony ...
Charles Remembers
by Aldeberan
He first came to me
pale, thin, hands and face scrubbed raw—
sleepless, haunted, lost.
Much, much worse than I
had envisioned, during long
sessions on the phone.
It was Sharona
who was able to coax him
out into the world,
where, after a stop
at his wife's grave, he came to
see me face to face.
Before me stood a
shadow, cast by Trudy's light—
Trudy, who was gone.
Sharona said he
was better, stronger than when
she first came to him,
yet it took an hour
for him to let Sharona
leave, tears in his eyes.
He'd only stay if
she would wait in the courtyard
where he could see her.
Another hour for
him to speak, despite all we
had shared on the phone.
His eyes never left
Sharona. Slowly, tear choked,
he began to talk,
seeking a way to
express a grief so vast it
had swallowed him whole.
Trudy's love brought him
life, was balm for the stray wounds
of his existence.
The job had given
him purpose before her and
now that, too, was lost.
It is said that time
heals all wounds. True for most—but
not for Adrian.
Not for a man with
a perfect memory that
time does not alter.
Most don't understand
that his grief now is as sharp
as the day she died.
He spoke until dark.
Behind glass walls, Sharona
waited, his beacon.
Return promised, they'd
left, her arm about him as
he bent with despair.
I never feared for
his life. Intent on solving
the case, he'd survive.
Duty holds him to
this life like gravity, a
bond he will not break.
I worried then as
I do now—about his life
when the case is solved.
Will he learn to live?
To cope, to allow change in
his world, unafraid
of displacing his
own perfect memory of
the perfect woman?
Will he learn he can
hold her close in his heart, with
room for another?
Then, as now, I knew
my work would be to help him
find reason to live,
a reason beyond
justice, revenge, closure—those
things which drive him now.
Time won't heal him. He
and I together must do
the work, the process
as unique as the
man himself. I have faith that
we will find his way
back to life, past pain
to sometime joy, a reason
to be Adrian.
..........for Skye