| | |
| --- | --- |
| | |




"We're in a constant state of fermentation, like a very tasty, tangy, cheap wine. We're kind of like the Two Buck Chuck of series television."
— My Favorite Tony Shalhoub Quote

How about we try mysteries where I sit in a chair, sip a cold drink, and talk to a beautiful woman?"
— My Other Favorite Tony Shalhoub Quote

Welcome to The Monk Fun Page
An almost totally safe and friendly web experience*

This site is dedicated to celebrating the Emmy award winning USA series Monk and Monk fandom. It's all fun, games, questionable humor and some news. The page has been revamped a few times so please check out the navigation magnifying glasses above.

If you need more Monk than this site can provide, you've got a lot to choose from: let's see... we've got the TV.com Site, the Yahoo Group and a bunch of others. You can find some of the classier ones in the MonkFans Ring linked at the bottom of this page. Not to mention, (but I will) the USA Network Official Monk Site, which has a schedule, episode guide, the best character blogs on the internet, video interviews and all sorts of other nifty stuff. So take a look if you haven't been there yet. You can also check out the Monk Fanseite, the German "sister" site of The Monk Fun Page. That's right, Monk is an international phenomenon. And a musical one as well: check out the song written and performed by a Canadian Monk fan... in Austria.

I've got a bunch of interviews here on The Monk Fun Page. The newest ones are with Monk writer Josh Siegal, Adria Tennor (Donna DiMarco, "Mr. Monk and the Badge"), Mike Rock (Lt. Dylan, "Mr. Monk Goes to Group Therapy"), Taylor Longbrake (Cathy Cooper, "Mr. Monk's Favorite Show"), Gary Weeks (Mr. Cooper, "Mr. Monk's Favorite Show"), Mike McGill (Sgt. Steiner, "Mr. Monk and the Voodoo Curse"), Sandra Luesse (Waitress, "Mr. Monk's Other Brother"), Tim Bagley (Harold Krenshaw, "Mr. Monk Fights City Hall"), Chet Grissom (Det. Burns, "Mr. Monk Makes the Playoffs"), Melissa Strom (Young Clerk, "Mr. Monk and the Miracle"), Ernie Grunwald (Vampire Manager in "Mr. Monk's 100th Case"), Casper Van Dien (Lt. Albright) and David A. Jansen (Lt. Pierce) from "Mr. Monk is Underwater", James Lesure (Ray Regis, "Mr. Monk Takes a Punch"), Malcolm Barrett, Heather Brooker and Amy Crofoot ("Mr. Monk Gets Lotto Fever").

The truth is I was fishing for an interview, but instead I got a lovely photo from Sarah Brown (Mandy Bronson, "Mr. Monk and the Leper") I'm not giving up on the interview, because Sarah is one of my absolute favorites, but in the meantime here's the photo she sent.


Click on photo to enlarge

There are a few message boards on the Monk scene. The three big ones are the Official USA Network Board, TV.com Message Board and the IMDB Monk Message Board.

*The activex control is just Leland singing "Ain't No Sunshine" near the bottom of the page.



PRESENTING "MR. MONK GOES TO SOUTH PARK!"

"Where are they now?" is a new Fun Page feature to keep Monk fans updated on all (or most of.... or at least some of) the new projects undertaken by the former stars, writers, producers, guest stars and possibly other Monk-ish people. So let's start with Tony Shalhoub.

| | |
| --- | --- |
| | Tony didn't get much of a rest before starting rehearsals on February 8th for his starring role in the new Broadway revival of Lend Me a Tenor. The play begins previews on March 12th 2010. (Previews, for those unfamiliar with Broadway etiquette, give new productions a chance to work out any bugs. Traditionally, critics do not review a production while it's still in previews.) Opening night is April 4th. Tickets are on sale through August 15th 2010. I'm not sure if that's a firm end date for the production or if it's a we'll-see-how-well-it-does kind of a deal. Like most Broadway shows it's going to cost you a boatload of money: $121.50 for good seats, $191.50 for "premium" seats (whatever those are) and $86 for the cheap seats. I'm sure it will be worth every penny. You get to see Tony Shalhoub in a tux. |

Stanley, Tony and the rest of the cast gave the press a photo op last week.

Stanley Tucci, playwright Ken Ludwig (second from left in photo above) and the cast, including Tony, will be having a public discussion/Q&A tomorrow, March 1st, at the 92YTribeca in New York City .

Monk Finale Breaks Ratings Records

Press Release from USA Network

MONK Finale Becomes Basic Cable's
Most-Watched Original Drama Episode Ever

NEW YORK, NEW YORK – December 7, 2009 – After eight successful seasons on the air, the series finale of the USA Original MONK on Friday Night (9pm) set records as it became the most-watched basic cable original drama series telecast of all time in total viewers. Hitting series highs for its final episode, a rare feat in the TV landscape shared by only an elite group of iconic series, the finale brought in 9.4 million total viewers, beating the prior series high by +37% (MONK had never been above 7 million total viewers in its eight seasons). The series that experts say started the resurgence of original programming on cable garnered seven best comedy actor Emmy nominations (and three wins) for Tony Shalhoub in the title role throughout the run.

The finale delivered series high in P18-49 with 3.2 million beating the prior series high by +10% (This was the first time MONK surpassed the 3 million benchmark in this demo).

MONK delivered 3.7 million P25-54 viewers beating the prior series high by +2%.

The MONK finale now holds the title of USA's top original series telecast of all time among total viewers, is #2 among P25-54 and #3 among P18-49.

MONK easily topped everything on broadcast for the night in P2+, P18-49 and P25-54 based on fast nationals for broadcast.

Among cable entertainment telecasts for 2009TD, the MONK finale on Live+Same is the #1 P25-54 scripted telecast on basic or pay cable, the #1 scripted telecast on ad-supported basic cable in total viewers and the #1 P18-49 scripted telecast on basic cable.

Update: (Dec. 30, 2009) The final numbers (live +7) are in. Part 2 of the finale raked in 10,622,000 viewers. It's not as even as 10 million, but it is fantastic and it does put Monk in the top 25 cable broadcasts of the year. The first part of the finale also made the top 100 list with 7,122,000 live +7 viewers. (Live +7 means those who watched the original broadcast and those who recorded the original broadcast and watched it within seven days. So in the case of "The End, Part II" approxmately 9.4 million people watched the original broadcast as it aired and an additional 1.2 million people watched their recording of the original broadcast within a week. This number would not include viwership of subsequent airings or recordings of those airings. Also not included would be any online viewings.) 2009 Top 100 List


Mr. Monk in Trouble
Lee Goldberg's latest Monk novel
Released December 1st!

Season Eight Episodes


Mr. Monk's Favorite Show


Mr. Monk and the Foreign Man with guest star
Adewale Akinnuoye-Agbaje


Mr. Monk and the UFO
with guest star Daniel Stern


Mr. Monk is Someone Else
with guest star Kelly Carlson


Mr. Monk Takes the Stand
with guest star Jay Mohr


Mr. Monk and the Critic


Mr. Monk & the Voodoo Curse with guest star Meat Loaf


Mr. Monk Goes to
Group Therapy


Happy Birthday, Mr. Monk
with guest star the first
self cleaning vacuum


Mr. Monk and Sharona
with guest star Bitty Schram


Mr. Monk and the Dog
with guest star Sparky


Mr. Monk Goes Camping
with guest star Alex Wolff


Mr. Monk is the Best Man
with guest star Carol Kane


Mr. Monk and the Badge


Mr. Monk and the End Part I
with guest star Melora Hardin


Little Monk

Mr. Monk's Favorite Show: with guest stars Elizabeth Perkins, Rena Sofer, Sarah Aldrich, Gary Weeks and introducing Taylor Longbrake. Monk is thrilled to be the bodyguard of a former child star after an attempt is made on her life, until he learns how different she is from her TV alter ego. Debuted August 7th 2009.
On the Set of "Mr. Monk's Favorite Show"
Interview with Gary Weeks
Interview with Taylor Longbrake
The Monk Fun Page Review

Mr. Monk and the Foreign Man: guest stars Adewale Akinnuoye-Agbaje. While investigating the high-profile murder of a maid, Monk finds himself increasingly drawn to a case involving a visiting African man investigating his wife's hit-and-run death. Debuts August 14th 2009.
This episode was featured in a TV Guide article
The Monk Fun Page Review

Mr. Monk and the UFO: Mr. Monk sees a UFO. That just about says it all, right? I'm perdicting a terrestrial explanation and I bet it's got something to do with murder. Guest starring Daniel Stern (City Slickers). Debuted August 21th 2009.
An article by a guy who saw them filming.
Interview with Mathis Fender
The Monk Fun Page Review

Mr. Monk is Someone Else: In an effort to foil an assassination plot, Monk assumes a dead hit man's identity. Guest starring Reed Diamond (Dollhouse), Kelly Carlson (Nip/Tuck), Vincent Curatola (The Sopranos) and Eric Balfour (Six Feet Under, 24). Best of all Tim Bagley returns as Harold Krenshaw. Debuted August 28st 2009.
The Monk Fun Page Review

Mr. Monk Takes the Stand: Monk's phobias threaten to undermine a big murder case when an aggressive defense attorney targets the detective's unconventional methods in court. According to Tony Shalhoub, Jay Mohr guest stars as a "super, super strong savvy defense attorney who's never lost a case, who is defending a criminal Monk knows is guilty." Debuted September 11th 2009.
The Prime Time Pulse Review
Interview with Josh Siegal

Mr. Monk and the Critic: Natalie believes a critic (guest star Dylan Baker) who panned her daughter's performance is responsible for a murder at the same time as the show. Also guest starring Bernie Kopell (The Love Boat). Debuted September 18th 2009.
The Prime Time Pulse Review
An article about the filming of this episode in Covina CA the first week of April

Mr. Monk and the Voodoo Curse: Guest starring Meat Loaf and Michael Patrick McGill. Monk investigates murders linked by mysterious voodoo dolls sent to the victims. Debuted September 25th 2009.
The Prime Time Pulse Review
Interview with Mike McGill

Mr. Monk Goes to Group Therapy: Official logline: "When Monk's insurance company refuses to pay for more individual therapy sessions, Monk joins Dr. Bell's therapy group, where somebody appears to be murdering his fellow patients." Harold Krenshaw (Tim Bagley) is in this one too. Debuted Friday October 9th 2009.
The Monk Fun Page Review
Interview with Mike Rock

Happy Birthday, Mr. Monk: It's Mr. Monk's birthday and what better way to celebrate than a couple of baffling murders... and a self-cleaning vacuum. Stottlemeyer meets a woman (Virginia Madsen) who's probably not a killer, but I'm sure he's going to be doing a thorough background check this time. Also guest starring John Carroll Lynch. Debuted on October 16th 2009.
The Prime Time Pulse Review

Mr. Monk and Sharona: She's baaaaaack! The one and only Sharona (Bitty Schram). Also guest starring Jack Wagner. Debuted October 23rd 2009.
The Prime Time Pulse Review

Mr. Monk and the Dog: Monk reluctantly adopts a dog while looking into the suspicious disappearance of its owner. No word yet on who will be playing the dog but the guest star will be Wallace Langham (CSI). Update: The dog was played by Sparky the dog! Debuted October 30th 2009.
The Prime Time Pulse Review

Mr. Monk Goes Camping: In order to score points with an officer on his review board, Monk goes camping with the man's son (Alex Wolff) and Lt. Disher. Monk and Disher on a camping trip.... How can that not be funny? Guest star Alex Wolff is the son of season one guest star Polly Draper (Rita Bronwyn, "Mr. Monk Takes a Vacation"). Also guest starring Wade Williams (Prison Break). Debuted November 6th 2009.
The Prime Time Pulse Interview

Mr. Monk Is the Best Man: I don't know much about this one, but I have to wonder if wedding bells will be ringing for Stottlemeyer and his new lady (Virginia Madsen). Update 11/11/09: I don't have to wonder now. The previews make it clear Leland will be the one tying the knot. Also guest starring Carol Kane and Teri Polo. Debuted November 13th 2009.
The Prime Time Pulse Review

Mr. Monk and the Badge: I got nothin', but so close to the end of the series I'm hoping Monk's reinstatement is once again under consideration. Update 11/11/09: Monk will be reinstated and Natalie will find a new job, but who knows how long that will last. Guest star Mark Harelik and Ian Paul Cassidy. I hear tell that Brooke Adams may also be appearing. Debuted November 20th 2009.
The Prime Time Pulse Review
Interview with Adria Tennor

Mr. Monk and the End, Part I: I see nothing. I know nothing. I hear nothing. The finale, parts one and two, are top secret. Update: I know a little. Guest stars will include Virgina Madsen (no surprise there), Casper Van Dien, Melora Hardin and Mary Beth Evans. If my eyes don't deceive me that's Craig T. Nelson and Ed Begley Jr. in the preview. Debuted November 27th 2009
The Prime Time Pulse Review

Mr. Monk and the End, Part II: Monk finally learns the indentity of "The Judge" his wife's killer, but can he can he catch him before he succumbs to a deadly poison. Well, of course he can! Guest stars Craig T. Nelson, Casper Van Dien, Melora Hardin, D.B. Woodside and Sarah Rush. Debuted Friday, December 4th 2009.
The Prime Time Pulse Review
Huffington Post Article: "Mr. Monk and the End"


Bitty Schram and Tony Shalhoub Interview
October 20th 2009


Auction's over. Click here for results.

Learn everything you want to know, but haven't had a chance to ask
about the final season of Monk in a
not very exclusive Q&A with Tony Shalhoub
held on Tuesday, July 28th 2009 live from Wisconsin!



Mr. Monk Goes to the Emmys... for the Seventh Time... in a Row

Tony Shalhoub was once again nominated as Outstanding Lead Actor in a Comedy Series. This was his seventh Emmy nomination for his role in Monk. He has already won the award three times: in 2003, 2005 and 2006. [Update: Alec Baldwin won. Tony was robbed. Again.]

Gena Rowlands was nominated as Outstanding Guest Actress in a Comedy for her role as Marge Johnson in "Mr. Monk and the Lady Next Door". This was Ms. Rowlands eighth Emmy nomination. Like Tony she has also won the award three times before: in 1987, 1992 and 2003. [Update: Tina Fey won. Ms. Rowlands was robbed.]

The main Emmy ceremony took place on Sunday, September 20th.

KTLA Interview with Tony Shalhoub March 2009 Season Eight Promo


Where in the MonkWorld
are LisaAnne's Kids?!
Featuring Monk Southern California locations!











Mr. Monk and the New Books
Thank goodness for the Monk novels. They do tide me over during the infrequent Monk lulls in my schedule. Author Lee Goldberg recently finished another one, Mr. Monk and the Dirty Cop. If you want to know what it's about click below to see the dust cover synopsis. He's hard at work on the next novel, Mr. Monk in Trouble.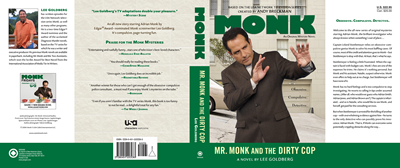 Click to enlarge
Mr. Monk and the Dirty Cop is available now!
Read the Monk Fun Page review of Mr. Monk and the Dirty Cop
---
Here's the official description of the Monk novel, Mr. Monk is Miserable, released on December 2nd 2008.

Adrian Monk already ruined a trip to Germany for his longsuffering assistant Natalie. The least he can do is accompany her on a detour to France—and try not to ruin that too. In fact, Monk shocks Natalie by announcing that he wants to visit the sewers of Paris. The historic underground maze of pipes and tunnels is famous for making the City of Light sanitary, and to Monk, that's worth paying tribute to.
The only problem is that their explorations lead them to another hidden world below the Parisian streets: the catacombs, filled with aging skulls and bones. Monk's sharp eye catches sight of one skull that's not so old—and that shows evidence of murder—pulling them into a case more twisted than the catacombs themselves.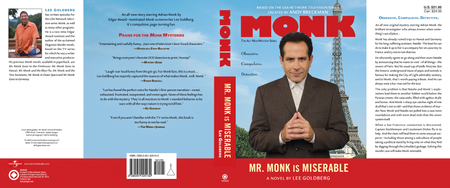 Click to enlarge
Mr. Monk is Miserable (Hardback)
The Monk Fun Page Review of
Mr. Monk is Miserable
---
Here's the description for Mr. Monk Goes to Germany, released in June 2008.
Adrian Monk is actually doing well lately. He's solving murders as fast as they come, and he's been noticeably less compulsive—he doesn't count his morning Wheat Chex until they're in the bowl. Progress is progress, and Monk knows he owes it all to his therapist, Dr. Kroger.
So when Dr. Kroger attends a conference in Germany, Monk ends up in trouble. He can't tie his shoes, forgets how to swallow, and loses track of his blinking. Desperate to regain his footing, Monk follows his shrink to Germany. And that's where Monk sees the man across a crowded town square. The man he's never stopped searching for. The man with six fingers. The man responsible for his wife's death.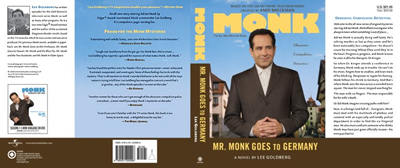 Click to enlarge

Mr. Monk Goes to Germany (Hardback)
---
The fifth Monk novel which is entitled Mr. Monk in Outer Space was released on November 1st 2007. According to Lee Goldberg on his blog, "It's not in outer space. Monk solves a murder at a science fiction convention....
I do have fun with Monk encountering some of the more outrageous aspects of fandom. I delivered my draft of Mr. Monk in Outer Space
to my editor a couple of weeks ago and learned that they've moved up the release date of the hardcover to November 1. That was quite a surprise and only underscores how enthusiastic and supportive they've been for these books."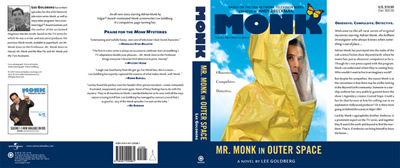 Click to enlarge
Mr. Monk in Outer Space dust cover, courtesy of Lee Goldberg
---
Mr. Monk and the Two Assistants, was the first Monk novel to be initially released in a hardback edition and it's still available at all the bookstores that count, but Amazon currently has the Two Assistants and Outer Space hardbacks available for less than the cost of the paperback versions. I don't know how long that will last, so you might want to jump on it. Two Assistants was released on July 3rd 2007 and in paperback as of January 2008. My review of Two Assistants is up, if you want to know what I think.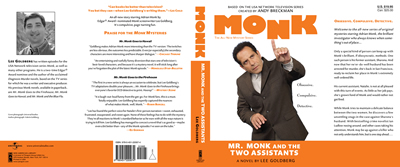 Mr. Monk and the Two Assistants dust cover
Click to enlarge
---
Mr. Monk Goes to the Firehouse, the first in the series of official Monk novels by Lee Goldberg was released on January 3rd 2006. The next novel Mr. Monk Goes to Hawaii came out in July of 2006 and Mr. Monk and The Blue Flu was released on January 2nd 2007. You can read an excerpt from Mr. Monk Goes to the Firehouse, Goes to Hawaii and Blue Flu at USA Network's Official Monk website. Lee also does a video interview for the website.

Get Your Autographed Monk Books
Here's how you can order your own, signed copy of Firehouse, Hawaii, Blue Flu, Two Assistants, Outerspace and the now released Mr. Monk Goes to Germany. Email Mysteries to Die For with the following information:
Name
Address
Phone number
Method of payment (check, money order or credit card)
Info about how you want the book inscribed (signed only, inscribed to 'name', etc.)
Mail your check or money order made payable to Mysteries to Die For. ($10.50 if you live in California; $10.00 for all other states except Alaska and Hawaii – if you live outside the contiguous 48 states, they'll email you with pricing information) to this address:
Mysteries to Die For
2940 Thousand Oaks Blvd
Thousand Oaks CA, 91362
If you want to use a credit card, they will call you to get the necessary information so please be sure to include your phone number. If you want more than one copy of the book, they'll email you specifics as to cost.

Finding it hard to keep all the episodes straight? You'll never have to worry again. Well.... of course, you'll worry, but not about the correct order of the episodes through season four. Monk: the Official Episode Guide was released on June 27th 2006. I'm pleased to present an interview with the authors Terry Erdmann and Paula Block who told The Monk Fun Page all about it:
"The reason this book exists is because Andy Breckman was a fan of the television show Columbo. He found many, many years ago a book called The Columbo Phile and he told me that he's always wanted to have a book like that about himself. So he mentioned it to someone at the USA Channel. I think he mentioned it, probably to Jeff Wachtel, who's the senior vice president of original programming at USA Network, and Jeff passed on the information. It got to Cindy Chang at NBC Universal licensing, because NBC Universal is the head company over USA Network, and she said, 'Yes, we can probably do a book.' I'm not quite sure in what order the things happened, but they found St. Martin's Griffin amenable to doing the book and then she found us and it all happened. —Terry Erdmann, co-author of Monk: The Episode Guide. The rest of the interview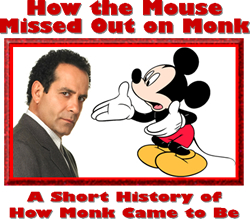 Excerpt from Jimhillmedia.com
September 13th 2007
"Of course, back when "Monk" was originally in development at Touchstone Television, this hour-long dramedy wasn't envisioned as a showcase for Mr. Shalhoub's talents. But -- rather -- as a starring vehicle for Michael Richards. You know? Of "Seinfeld" fame?
"Strange but true, folks. As that super successful sitcom was winding down its 9-year-run on NBC in the spring of 1998, every studio in Hollywood was waiting in the wings. Eager to cut deals with Richards & the rest of the "Seinfeld" cast to appear in brand-new shows."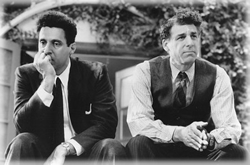 Michael Richards (Right) and John Turturro (Ambrose Monk)
in Unstrung Heroes

Accompanied by fellow fan Kim, I had the privilege of once again visiting the set of Monk in November 2007. They were shooting "Mr. Monk and the Three Julies", the last episode to be filmed for season six. Click below to read all about it.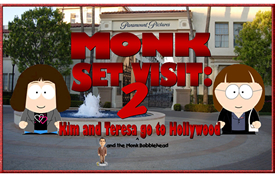 TV Guide's Red Carpet Interview with Tony Shalhoub at the 2009 Golden Globes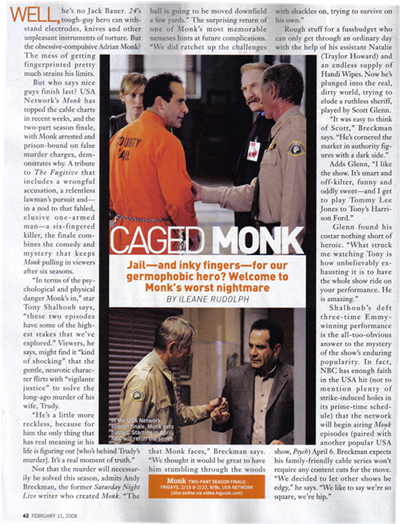 February 11th-17th 2008
click to enlarge
| | |
| --- | --- |
| | |
Excerpt from TVGuide.com
Has Stanley Kamel Finally Made His Monk on Show Biz?
Interview with Stanley Kamel
by Raven Snook
Friday, January 19, 2007

TVGuide.com: Is there anything you can share about the rest of the season?
Kamel: I'm going to be singing on one of the episodes. I serenade Monk in my office, and it's very, very funny. It's the only time I've ever seen Tony biting his lip to keep from laughing. And Andy Richter guest-stars [tonight] in "Mr. Monk Makes a Friend."
TVGuide.com: I saw the episode, and it's very funny, particularly when Monk asks you when he should "pop the question" to Richter, about being his best friend.
Kamel: Yeah, I just kind of look at him like, "Wait, is there something else going on here? Maybe Monk's gay.... "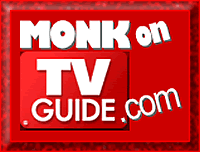 Tonight's TV Hot List for Friday 02- 20-09
Monk to Clean Up His Final Murder Case in 2009 11-14-08
Cheers: Monk's Brad Behavior 7-21-08
Hector Elizondo Q & A 7-10-08
Monk Season Six Review 7-8-08
Family Guy
In Style Magazine - July 2006
Written By Jay A. Fernandez
Photography by Bobby Fisher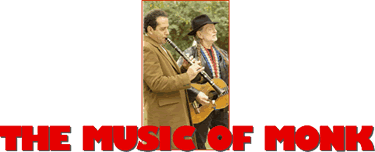 Monk music editor, Craig Pettigrew,
answered all my questions in a May 2007 interview.
Love it or hate it, here it is: the current Emmy winning theme, It's a Jungle Out There. USA's official Monk site has a much more official version, but this one's in MP3 format for all you Real-Player challenged folks. In the spirit of equal time, here's the season one Emmy winning theme, too. I've also got the Monk Rap (1.21MB) from the season six episode "Mr. Monk and the Rapper." Don't tell anybody you found it here.

"There's a certain thing [Randy] Newman has, it's the dark and mournful sound, and there's this tongue-in-cheek, darkly humorous side. It completely fits the tone of the show," Shalhoub says.

Excerpt from USA Today
"What makes 'Monk' tic? Bigger budget, brighter stars"
By Bill Keveney 6/19/2003

"The Here's What Happened" Rap
from "Mr. Monk and the Rapper"
as performed by Snoop Dog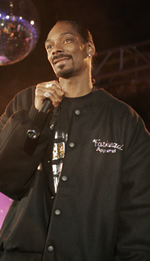 Here's what happened, y'all
I got this, Monk
Yeah, you can't believe
what you hear all the time
Sometimes seeing is believing
Like the man said, I was set up
I'm just a pawn in this game
Let me break it down for y'all
No, for real here's what happened
Have you ever been accused?
Man you got set up
And it really wasn't you?
Man you got set up
Tryin' to plant somethin' on me
Man you got set up
And then you say I killed the homey
This fool was greedy
Had to have the whole thing
Let me run it down to you
It's a cold game

He wanted more than half of the pie
That's why his partner had to die
You heard me
You was the target all along
Am I right or am I wrong?
Monk: You're making a lot of excellent points. He is.
Every week they had a breakfast date
Captain Crunch, French toast, or a stack of pancakes
But this week they wasn't servin' nothin'
But murder on the plate
(In close captions, but not in the rap as broadcast:
The limo driver must have
caught a glimpse of Denny Hodges
As he fled the scene, Homes.)
He wanted to pin it on me like a purple heart
But his perfect plan just fell apart
'Cause like Aaron Burr who was tried for treason
You made a mistake, Dog, forgot about the season
There was a fatal flaw to the perfect crime
You see Sunday was daylight savings time
Twice a year we reset the clock ahead one hour,
But I guess you forgot
You're partner showed up to break some bread
What he found was an empty table instead
You didn't order room service
Because you thought the homey whitey was dead
Extra Large ran out of luck
When the limo came by and picked him up
The pocket watch up under the car
The trigger went boom and there went Extra Large
Have you ever been accused?
Man you got set up
And it really wasn't you?
Man you got set up
Tryin' to plant somethin' on me
Man you got set up
And then you say I killed the homey
I went to the source and found a great detective
I told Adrian Monk to follow my direction
He solved the case
and he rocked it well
Next stop for you Denny Hodges
Is a Death Row jail cell
| | |
| --- | --- |
| | At least it's the first song that they didn't have to pay for (as opposed to say It's a Jungle Out There) and it comes to us from Europe where Monk is becoming more popular every day. The composer recently dropped me an email: "I am a big Monk fan, a Canadian currently living in Vienna, Austria. I am also a song writing musician and I have a new CD. One of the songs on the CD, "There's Nothing Wrong With You", I wrote for Monk. It's a warm, light hearted message of encouragement for the great Monk. I would like to share this song with all Monk fans, for free." Just go to his website to download the song. |
There's Nothing Wrong With You

It's a well accepted fact
Everyone sane will agree it's true
Just ask anyone
There ain't nothing wrong with you
So you don't like some things
And you have a phobia or two
But that don't make you crazy
There ain't nothing wrong with you
It's no wonder you're the way you are
Trapped in this world that's really such a mess
You really don't have to look very far
To see it's such a mess, such a dangerous, scary mess
Some might say you're cracked
But they don't see you like I do
They might laugh behind your back
But there ain't nothing wrong with you
So this world makes you nervous
Many sane folks feel that too
And the streets are filled with chaos, yeah I know
But there ain't nothing wrong with you
It's just all such a mess, such a dangerous, scary mess
All you wanna do is fix things
That really are quite askew
Maybe you're the only one who sees them, yeah I know
But there ain't nothing wrong with you
So you got some issues
But nothing we can't work through
But I do think you worry a little too much
But there ain't nothing wrong with you
It's a well accepted fact
Anyone sane will agree it's true
Just ask anyone
There ain't nothing wrong with you

Words and Music by Lionel Lodge
All Rights Reserved
C P Lionel Lodge 2006


As of this writing and barring a miracle, Bitty Schram (Sharona) and Monk have permanently parted ways. Speculation abounds as to the "real" reason(s) for her departure, but as Willie Nelson says, "There's only two things to fight about and money is one of 'em."

The Powers That Be said: "Monk has decided to go in a different creative direction with some of its characters. Bitty Schram will not continue with the cast. We thank her for her notable contributions and wish her the very best."

Bitty's People said: "Bitty Schram and USA Network have amicably decided to go their own separate ways... She wishes everyone connected with the show continued success and looks forward to pursuing the various opportunities before her."

According to a March 2006 TV Guide Article: In another first, Schram also talks in public for the first time about her leaving Monk. She told TV guide that she didn't want to leave the show but suspected she "was being paid less than many people who got raises" and she couldn't "work out a new contract." Still, she says, Monk "was the best experience of my career."

Those concerned that Bitty was hard done by needn't worry. According to Tony Shalhoub in a not so recent article: "Bitty has so many opportunities opening up for her now... she has bigger fish to fry."

Natalie Teeger, is the replacement character for Sharona. The role is played by Traylor Howard once best known for being the girl in Two Guys, a Girl and a Pizza Place. Producer David Hoberman said, "We fell in love with her during her audition, and we're sure the audience will fall in love with her too."

Despite Mr. Hoberman's optimism, not all the fans shared his enthusiasm. A tropophobic and vocal group of fans voiced their displeasure with all things Natalie, from the actress who portrays her to the concept of the character. "Why does Natalie go around thinking she is hot stuff?" asked one of her harsher critics on the official USA Message Board. "She always tries to use her feminine side with men, come on she is not pretty nor sexy... just check out that nose, whoa!!!!!" [Note: that particular poster has since changed his mind, as have many others, and now thinks Natalie's okay.]

"Luckily, no one has come up and yelled at me," Howard said in a March 2005 TV Guide article. "There are die-hard Sharona fans who are not going to budge for a while or ever. Some people love the new character; some are trying to give her the benefit of the doubt. But it will take a while."

Tony had this to say: "I love the whole freshness that Traylor brings. I feel the show is intact, that it's evolving and it's the next chapter."

This page debuted on July 17th 2003,
(but it's snowballed since and I've lost all sense of proportion)
Last significant update September 2009
If you have any comments, questions, advice or contributions,
I would love to hear from you.
If you want to contact anyone in the Monk cast
(Tony, Traylor, Ted, or Jason)
the only way to do it is by snail mail:
[Cast Member Name]
c/o "Monk"
Paramount Studios
5555 Melrose Ave
Bldg. 213, Suite 360
Los Angeles, CA 90038
"It would be funny if it weren't so... dysfunctional"- Dr. Lancaster


| | |
| --- | --- |
| | |

| | | |
| --- | --- | --- |
| | Disclaimer: This web site is not officially sanctioned by anyone but me,Teresa Murray (that includes USA and the producers/creators/anybody affiliated with Monk.) They know about it though. They have it back on their "Links" page , so they probably won't sue me. Most photos are courtesy of Monk/USA Networks. This site is, ideally, for entertainment purposes only. If you start making life decisions based upon anything you find here that would be ludicrous and sort of funny, but not my problem. All original stuff is copyright 2003-2011. | |