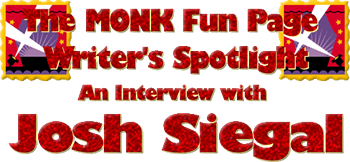 | | |
| --- | --- |
| | Josh Siegal and his writing partner Dylan Morgan were staff writers for Monk throughout the seventh and eighth seasons. Their first episode, "Mr. Monk is on the Air" was written before they were brought on to the writing staff permanently as was their second episode, "Mr Monk Joins a Cult". Their contributions this season include "Mr. Monk Takes a Stand" and "Mr. Monk is the Best Man". Before coming to work for Monk they wrote for shows such as Crossballs: The Debate Show and Dog Bites Man. Josh only had time for a few questions, but lucky for me he had a few really good answers. |
---
Did you choose this particular episode, "Mr. Monk Takes a Stand" as the one you wanted to work on? If so why?
| | |
| --- | --- |
| Working on Monk is enough fun that my writing partner (Dylan Morgan) and I would have been happy doing any episode, but we were attracted to "Mr. Monk Takes the Stand" for a few reasons. | |
It felt like it would be a cool opportunity to subvert the show's structure by starting where most episodes end – okay, Monk catches all these bad guys, what happens next? What happens when these bizarre cases wind up in court, and this incredibly quirky fellow has to testify? That all seemed like fresh territory. Plus it's always a treat to write Monk facing off against a powerful bad guy.
What in this episode are you particularly proud of?
| | |
| --- | --- |
| | Monk falling apart on the stand was great, and then Monk pulling himself apart at the crime scene imagining what Harrison Powell might say the next time they faced off. |
Tony Shalhoub is so good at taking things that have silliness in them, and then making them funny and also emotional and moving.
How did your first opportunity to write for Monk come about? That was "Mr. Monk is on the Air," right?
"Mr. Monk is on the Air" was our first. We were friendly with Tom Scharpling, who has been one of Monk's premier architects with Andy Breckman from pretty much the beginning. We pitched Tom a whole bunch of ideas, he picked a favorite or two, made them better, and then Andy liked what he heard. It was a real honor because we were fans of the show and had never written a mystery, but they bought pretty much our whole story. Then what happens is, you go out and spend a week with the Monk team fleshing the idea out into a scene-by-scene outline. That week is when most of the important story decisions are made.
| | |
| --- | --- |
| That week also happened to be when my first son was born. Andy was so kind about it, he gave me two days off – that's two days out of five, just time to be with my new family. I'll always be grateful to Andy for that. Plus, we went ahead and named the episode's killer DJ after my newborn, Max Hudson. Just a weird, nice, perfect storm of a week. | |
What can we expect to see in the final half of the season without revealing too much of course?
We're down to the last few episodes and I don't want to give anything away. Hopefully it's the right mix of closure but also excitement. This is a group of characters that the writing staff cares about as much as the fans do, and we worked hard to find the best ways of saying goodbye to them.
What was your favorite part of "Mr. Monk is the Best Man"?
I would have liked this episode even if I hadn't helped write it - I'm a sucker for stories where (spoiler alert) love conquers all. I think Leland and TK have great chemistry, and there's a lot of nice emotion when Stottlemeyer, who has been so unlucky in love, finally finds happiness.
| | |
| --- | --- |
| | I love the fact that Monk is the one who is filled with hope even when things are at their darkest, simply because of how much he loved (his) Trudy and still believes in that kind of love. But all that said I think my very favorite moment is Natalie talking to TK about Mitch, and how she would marry him all over again even knowing their fate. |
Andy has said the whole series is about loss, and this episode - and in a way this whole season - is about the flip side of that coin, how we finally try to move on from that loss. Stottlemeyer, Natalie and Monk have all faced loss of one kind or another, but here we get to see the surprising ways people find the strength to overcome that. And if you can explore a message like that and still have Randy accidentally rewrite "Light My Fire" while thinking he came up with it himself, I'm happy.
I've never been part of a show ending its run (on purpose) and saying goodbye, and it was a real thrill to be part of a team trying to do that in a satisfying way. I'll always be grateful to Andy for letting me be a part of it.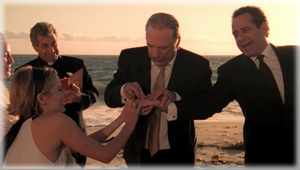 Where in the MonkWorld
are LisaAnne's Kids?!
Featuring Monk Southern California locations!