| | | |
| --- | --- | --- |
| | | |


(Click on photos to enlarge)

On July 14th, 2006 MFP photographer Seth and I once again hit the road for a little Monk adventure down in Los Angeles. Neither of us could get much time off work so we had to make it fast. We rented a convertible and left San Francisco at 9:00am Friday morning, zipping down the 101. (Yes, I-5 is much faster, but 101 is prettier and worth the extra hour or two.)

| | | |
| --- | --- | --- |
| Me, outside the Holiday Inn | When we arrived at the Holiday Inn in Woodland Hills shortly before 5:00pm, it was so hot even Monk would have unbuttoned his collar or maybe taken off his shirt. The hotel was equal distance between the two book signings, scheduled for the next day with Lee Goldberg | Seth, outside the Holiday Inn |

(Mr. Monk Goes to Hawaii), Terry Erdmann & Paula Block (Monk: The Official Episode Guide). The signings were our main reason for the trip. We threw all our stuff into the room, left the air conditioner on full blast and headed for our first stop in the heart of Hollywood. In "Mr. Monk Meets the Godfather" Fat Tony escorts Monk and Sharona to Sal "The Godfather" Lucarelli's restaurant. Those sequences were filmed at a charming Italian place called Miceli's on Las Palmas Avenue in Hollywood. (Thanks to Tami and LisaAnne for pointing us to it.)

A few stills from the episode "Mr. Monk Meets the Godfather"
featuring Miceli's Restaurant

.

We would have been happy just to get so many great pictures of a Monk location, but we also enjoyed the finest L.A. dining experience we've ever had. Our waiter's name was Sarkis and not only did he provide excellent service and a perfect wine recommendation, he also sang. That's Amore, Que Sera Sera, Smile and a few others: all favorites of mine and he was really very good. The food? Delicious, starting with the best caprese I've ever tasted and ending with a dessert "to live for" as Sarkis described it, which involved a fresh chocolate chip cookie and handmade ice cream. I think I'll go back every time I'm in Hollywood.

Above, Sarkis the singing waiter.

Seth took so many pictures the staff started to get a little nervous. "Are you planning on opening your own restauraunt called Miceli's?" One of them asked. So we had to explain that we were there because Monk had filmed there. We didn't mind: if it weren't for Monk (and Tami and LisaAnne) we would never have found Miceli's.

We took our time soaking in the restaurant's atmosphere and waiting for the sun to disappear completely. It was considerably cooler by the time we left and we drove through Hollywood and back to our hotel with the top down on the convertible and AC/DC blasting in the CD player. We were having a marvelous time and we thought we'd be back long before Monk ("Garbage Strike") was on. We miscaluculated. The hotel had a satellite system. Monk started some time between out salad and our entreé and was over long before we got back. We consoled ourselves with "Mr. Monk Gets Fired" on the Monk: Season Three DVD.

We had decided to spend a few hours before and after the signings at Universal studios, because Seth had never been there before. So we slathered on the sunscreen and left the hotel at 8:00am. (Did I mention it was hot?) We took the studio tour first and got a few photos of the back lot locations where they filmed "Mr. Monk Goes to Mexico."

I'm sure there are a bunch of other Monk episode locations on the lot, but they were either unrecognizable or too far away to see from the tram or they went by too quickly. After Back to the Future, Shrek 4D and a few gift shops it was time to head for the first book signing at Mysteries to Die For in Thousand Oaks.

I'd left all my carefully printed out mapquest maps with detailed directions to all our Southern California destinations in a nice neat little pile... on my desk... in San Francisco. So we were winging it and just going by the memory of the first time we attended a signing there back in January. Needless to say we missed our exit and arrived at the signing a little late. Lee, Terry and Paula had already begun their talk. It was a standing room only crowd and by the time we got there they had completely sold out of Mr. Monk Goes to Hawaii. Here's a bunch of pictures and some of what the authors had to say. (Mostly the funny stuff and none of the stuff about which I've been sworn to secrecy.)

| | | |
| --- | --- | --- |
| The crowd at Mysteries to Die For | Lee Goldberg has a sincere moment | The panel: Terry, Paula and Lee |

"The real reason I wrote Mr. Monk Goes to Hawaii is I wanted to go to Hawaii and write the whole vacation off." — Lee

"Those of you who've read Mr. Monk Goes to the Firehouse will see a firehouse. There's a murder in the firehouse. Monk solves the murder. There's a lot off character names, clues and elements from Mr. Monk Goes to the Firehouse in the episode, but everything's different. Who gets murdered is different. Monk is blind. Did I mention that? He's not staying with Natalie. But it was still a great experience to adapt the book for television even though, in typical Hollywood fashion, it became completely different." — Lee

| | | |
| --- | --- | --- |
| Paula Block | | Paula & Terry |

"Terry's usually the interview guy, because I'm kind of a shy and retiring, an editor type. And I sit at the computer and do all this stuff and Terry goes out in public and gets all these great interviews." — Paula

"I wanted to work on the Monk Companion for two reasons. One, I really love the show and the second was I really wanted to go to Summit, New Jersey. There are virgins waiting for you in your hotel room...." — Terry

"Andy Breckman was the inspiration for the Monk Companion. He wanted to see a book about himself. This was even before he had a show." — Terry

"Now I just walk in and out of the [Monk] set. They think I'm part of the crew and it's really, really nice." — Terry
"They always have security drag me away. I'm not sure why that is." — Lee
"I told them to." — Terry

"I was in Beverly Hills and I saw a woman with a brooch that was a live cockroach. And I thought, this is going in the next book." — Lee

"[Monk and Natalie] both lost their spouses. So they're both lost. In some ways that's why I find her a richer character than Sharona, is they have a pain that binds them together rather than just an employment agreement." — Lee

"We tried to make everything as light and fun as possible because it's a light, fun show." — Terry
"Also, that's what Andy wanted." — Paula

"I understand a second edition will come out if today's sales are high enough, right?" — Seth
"Yes, buy five copies." — Paula
"No, five boxes. — Terry

"Andy promises that they will solve Trudy's murder. That is going to happen." — Terry

| | | |
| --- | --- | --- |
| | | Paula Signing |

"Andy is also very big on the fun train experience. He likes to throw in these little riffs where they just go on and on and on. You keep thinking it's going to end, like the "Pete and Repeat" thing when he goes on the airplane. And you keep thinking, okay end it now, but it keeps going on. And when he first did this the network said, 'You know you could make that shorter.' And he said 'Don't stop the fun train in the middle of the ride.'" — Paula

"Andy really is the heart and soul of Monk. When I sit there at my computer and I'm writing either a Monk script or a Monk book, I'm less thinking about Monk than I am, what would Andy say?" — Lee

"Since Andy is madly in love with Columbo. He would really like to see Peter Falk [play Monk's father.]" Peter is a really independent type of guy. Even the people who work with Peter Falk all the time never know what

he's going to say when they ask him about the next project. So it's hard to tell if it's possible, but they have a huge list of people who could be Monk's father." — Terry

After all the signing and chatting at Mysteries to Die For it was time for the Monk Book Party to move to The Mystery Bookstore in Westwood near the UCLA campus. Seth and I only had a vague idea of where we were going, so we just followed Lee, who had Terry and Paula with him. Judging from the speed and manuevering, we figured he didn't realize we were on his tail and he later confirmed that was the case. We located the bookstore and then a parking space.

| | |
| --- | --- |
| Since we had a few minutes to spare before the 4:00pm signing and we hadn't eaten since our 8:00am breakfast, we foraged for food. The pizza place across the street looked acceptable. Lee, Terry and Paula had gotten the same idea and had already placed their order by the time we arrived. We joined them and discussed Monk and other TV stuff over L.A.'s healthiest pizza (or so the counter guy claimed.) Then the authors had to dash over to the bookstore to greet their adoring fans. | |

Lee, Terry and Paula gave their their talk, which was quite similar to the Mysteries to Die For talk, but they did get a few new and interesting questions from a by and large younger crowd. And Lee did regale the audience with his naked bookstore owner story for the first time that day.

"Hawaii was a natural place to take Monk: it's like an alien world compared to San Francisco." — Lee

"How much do I put out a day? That makes me sound like a prostitute." — Lee

"I have a special connection to Monk. It would be harder for me to suddenly write Cold Case novels or Boston Legal novels because I don't have the personal involvement." — Lee

"I've always assumed that tomorrow people are going to realize 'Lee Goldberg's a complete fraud. What are we paying him for? He's a hack.' And it's all gonna end." — Lee

"Doing it through Natalie's point of view has allowed me to give the books their own voice, their own character, to smooth over any continuity problems." — Lee

"When they said, 'Do you wanna do Monk?' We said, 'Yeah, how much will we have to pay you?'" — Paula

"Our dog likes to sleep underneath whatever desk that we are working at. We have two desks in there with computers on them. It doesn't matter which one we go to; he will go underneath that desk and he wraps himself around the legs of the chair so you can't roll it or move it or change positions. He's large. He's a collie and he just envelopes the chair. — Paula
"Oddly, my wife and daughter do exactly the same thing." — Lee

"Writing is hard work, but, folks, it ain't mining coal or washing cars." — Terry

"Oh, it's mining coal. I often feel like I'm down there in the tunnel with a chisel." — Lee

After the Q & A I picked up a couple copies of "Mr. Monk Goes to Hawaii" and waited in the autograph line while Seth took pictures. Waiting in line we met local Monk fan Virginia. she had a rare uncorrected proof of Monk: The Official Episode Guide (pictured below) for Paula and Terry to sign. When she handed it to them it led to a discussion of just how many of the uncorrected errors in the uncorrrected proof remained in the final version, despite the fact that Terry and Paula had corrected them. The same thing had happened to Lee Goldberg with Firehouse. In particular, Lee had been told that the LAX error (Natalie and Monk fly out of LAX, not SFO) in the proof had been corrected, but to his chagrin it popped up again in the final version.

| | | |
| --- | --- | --- |
| | | Monk fans Tami and Mark |

The signing and chatting were still going on, but we left a little early because we wanted to get out money's worth out of Universal Studios. Seth got a few more pictures.

| | | |
| --- | --- | --- |
| A cow on the highway | Curious George parking level | |

The Blues Brothers Show at Universal

We had a marvelous time in the Southland, but we couldn't wait to get back to cool San Francisco, which was actually a little warm for this time of year, but nowhere near as hot as Los Angeles. L.A. was so hot.... You're supposed to say how hot was it?" It was so hot I saw a dog chasing a cat and they were both walking. (Heh! Old joke. I've been waiting a long time to use that and about now you're probably asking yourself, why?)

On the third weekend in January (Jan 21-22, 2006) I made a quick trip down to the Los Angeles area for a little fun... Monk style. I was accompanied by my friend, chauffeur and photographer Seth Williams, who took almost all of the photos.

We left San Francisco on Saturday in the wee hours of the morning and drove down the coast.

Our first stop was a book signing that afternoon by Lee Goldberg, author of the new Monk novel Mr. Monk Goes to the Firehouse. The signing was held at the Mysteries to Die For bookstore in Thousand Oaks, California.


Where in the MonkWorld
are LisaAnne's Kids?!
Featuring Monk Southern California locations!







Lee poses before the rush

At 2:00pm they opened with a panel of writers which included Lee Goldberg and a bunch of other guys whose names I didn't recognize. They talked for about an hour, mostly about book reviews. Not surprisingly they like the good ones and they don't like the bad ones. Lee took a populist position: newspaper reviews don't count that much anymore when the typical reader can get a better idea of what interests them from the blog/internet buzz. This was not a popular opinion with the other writers. So they left. Kidding, but at 3 o'clock it was time for Lee to talk and sign Monk books, so they did leave.

Some of those writer's fans and family also left, which meant there was just enough room for Monk fan Tami to finally slip in and join the rest of the Monk/Lee Goldberg fans. She'd been cooling her heels in front of the bookstore for at least a half hour. Once she made it in we both got a couple copies of Mr. Monk Goes to the Firehouse and waited for Lee to begin.

Here are a few quotes from Lee's talk— (I'm not going to use them all since he answered many of the same questions in the interview we did in November.)

"I'm in the middle of writing my third Monk book Mr. Monk and the Blue Flu and I'm leaving tomorrow to go to Summit [NJ where the Monk writing staff is headquartered] and write a Monk episode. So I'll be writing a Monk episode by day and a Monk book by night. Two different murders: I am so confused already and I haven't even started."

Lee signs an autograph


Lee talks

"The episode I'm going to write, at least at this point, is an adaptation of this book. Except the adaptation already is going to be radically different. They even have a different title. 'Mr. Monk Goes to the Moon' or something. [He's being facetious. That's not the name of the episode.] But it may still qualify as the first time, that I know of, where a TV tie in has ever been adapted as a televsion episode."

"[Andy Breckman] acknowledges that the books stand on their own. He's given me permission to go off in my own direction on not be beholden to the series."

"Already I've made some mistakes that Monk fans have pointed out to me. In this book one of the big things is Monk is allergic to cats. Well, as Andy forgot and me as well, Monk's been around cats before on the TV show and he hasn't had a problem. And even after I wrote the book and Andy read the book there was an episode that aired last night [Mr. Monk Bumps His Head] where Monk's around a cat and it doesn't bother him. So there are things that are not going to fit, but the reader's going to have to accept that the Monk books are on a parallel track, rather than on the same track. Plus with episodes coming out every week, it's impossible for me, since the books have such a long lag time, when I write the book it comes out eight months later, there are going to be situations where the TV series will do things I've already done, or I'll do stuff they've done on the TV show. It's inevitable"
"I just hope the people reading the books feel as if they've watched a really good episode of Monk, that it feels like the show. And yet it gave them something more than they get from watching an old episode on tape."

"The hardest part is doing the comedy in the books. So much of the comedy is sight gags which are difficult to do in a book, so I have to make it more character based and realtionship based humor. It's a different kind of humor. And Monk in the TV show speaks in a more clipped way then Monk in the books. I have him talk a bit more than in the TV show."

"I love Sharona. I wrote two episodes with Sharona, but I think Natalie brings a tenderness and affection to the show. The show could be a little more acerbic when Sharona was there. Sharona was a harder edged, more street wise, certainly naive when it came to men, but much tougher, much more irritable, much more jagged. I'm glad as a novelist not to have to be in her head. Natalie is much closer to who I am and the way I see the world than Sharona is."

"People who've read the Diagnosis Murder novels will notice that in the second Diagnosis Murder book, The Death Merchant, Dr. Sloan goes to Kauai solves a murder and deals with a police officer in Hawaii. In Mr. Monk Goes to Hawaii Mr. Monk goes to Kauai and deals with the exact same man, but the only one who will ever notice is someone who's read The Death Merchant that it's the same guy." [And all the Monk fans who read this.]


After the rush
| | |
| --- | --- |
| Lee answers questions | Lee talks a little more |
A fan points out a continuity error in Diagnosis Murder [Steve has two childhood homes.] Lee explains about continuity: "Here's the problem. Not only does he have two childhood homes. He has two different histories. You call it being hacks and being lazy; we call it conceptual drift. It's a couple things. First of all, if you watch Odd Couple there are five different episodes that explain how Felix and Oscar first met."

"There are also several different Dick Van Dyke episodes that explain how he and Laura got together and first proposed and all that. There's a huge turnover in television and show runners change on TV shows. Whole new staffs come in. They haven't seen the 200 episodes that came before. They're starting fresh, they don't have time to go back and watch the previous 200.

"You have to hit the ground running. Plus when a show runs ten years 20 years the old back story becomes dated. You can't have the guy have been a Vietnam War vet, it just doesn't make sense anymore."

When he finished with his Q&A, Lee signed autographs and talked to fans for over an hour. It was after 5:00pm when we left and Lee had just sat down to sign stacks of books to be mailed out. After a delightful dinner at Claim Jumpers [try the Chicken Pot Pie, highly recommended by Lee Goldberg] in Thousand Oaks with Tami & family, Seth and I headed to The Commons at Calabasas. This is where they shot the first two scenes of the fourth season opener "Mr. Monk and the Other Detective." Of course, by the time we got there it was too dark to take pictures. But Seth did get one shot—
| | |
| --- | --- |
| | Then we headed back to our hotel room, which was conveniently just across the street, for some much needed sleep. We returned to The Commons the next morning at the crack of dawn. My memory is not so great first thing in the morning, so none of the shots we got were from the correct angle. But we were in the general vicinity. That sort of counts, right? |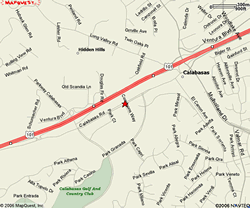 Click to enlarge
The Commons at Calabasas
4799 Commons Way
Calabasas, CA 91302
| | |
| --- | --- |
| We couldn't stay too long because we had an appointment... at Disneyland! Dylan White (Det. Robbins, "Mr. Monk and the Secret Santa") plays the Genie in the Disneyland California Adventure production of Aladdin. Dylan gave an email interview for the Monk Fun Page in December. When I told him we were coming down for the signing in January, he graciously offered to get us special seating at a performance and arrange to meet us afterwards. Being big Disneyland fans, it was an offer we couldn't refuse. We spent Sunday morning in Disneyland and caught the 12:30pm Aladdin show. The pictures pretty much tell the story — | |
| | | |
| --- | --- | --- |
| | | The sun shines on Disney's California Adventure . |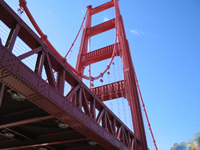 We traveled 400 miles and took pictures
of a fake bridge.
Dylan White as The Genie in Aladdin
(You all know the story, right?)
| | |
| --- | --- |
| The Cast takes a bow | |
That's all, folks. We had to rush back to San Francisco right after the show. So thank you Dylan, thank you Lee and thank you Tami for a wonderful weekend in the Southland!