| | | |
| --- | --- | --- |
| | | |




| | |
| --- | --- |
| The auction proceeds went to one of Tony Shalhoub's favorite charities, The Imus Ranch for Kids. After getting our input, the Monkfest organizer, Lee Hutton and Monk co-producer, Doug Nabors, scheduled our set visit for June 5th. We had a little less than three months to prepare. I don't know about Spinner, but for most of that time I found it hard to think about anything else. | Lee and Michael Shalhoub |

If you'd like to skip right to the part where we get to the Monk set, click here.
South Park figues by Liv have been substituted when and where photos were unavailable and sometimes just when I felt like it..

DAY ONE: LOCATIONS, LOCATIONS, LOCATIONS

We couldn't bring guests to the set visit, but a couple of old friends of mine, Seth and Tony, made the six hour drive, in the mega-van we'd rented, down the coast (we live in San Francisco) with me to L.A., where Monk is filmed. The Monk production offices, as of March 2007, are now at Paramount Studios in Hollywood. Spinner brought her husband Ralph along all the way from Missouri. (I'd like to say thank you to all the guys for exhibiting such patience with our nerves and fan-ish behavior.)

| | | |
| --- | --- | --- |
| | Tony | |

When we arrived on Saturday we had yet to hear from the Monk people confirming our visit on the Tuesday. We had no contact information and I couldn't get a hold of Lee either. (It wasn't until the morning after our visit that we learned Lee had passed away.) I had an unpleasant feeling the set visit might not happen, but everyone was trying to stay positive.

| | |
| --- | --- |
| 9:30am on Saturday morning my entourage and I picked up Spinner and Ralph at LAX. We'd only met virtually, so we needed a way to recognize each other. We both wore our Monk t-shirts and I carried a sign that said SPINNER in the Monk font. Lucky for us no one else in the airport decided to wear their Monk t-shirt that morning and we had no trouble finding each other. | |

| | |
| --- | --- |
| | It was a little while before we could check into our hotel, so we found a local Hollywood coffee shop and became a little better acquainted. I pulled out my screen shots of Monk L.A. locations. We settled on Astro Family Restaurant ("Mr. Monk and the Kid") in the nearby Silver Lake district as our first destination, after the motel and a nap, of course. |

Our motel was the beautiful Econo Lodge in downtown Hollywood. Well, not exactly beautiful, but it was the closet accommodation to Paramount that I could find and it certainly lived up to its name. The motel was acceptably clean and the staff was enchantingly brusque.


Above: me, Ralph, Spinner and Tony in front of the Hollywood Econo Lodge
Below: my buddy Tony flaunts the motel's finest attribute.

After we'd all had a chance to freshen up and do a quick bed bug check, we hit the road again and headed for Astro Family Restaurant which was only about ten minutes away. We took some exterior shots, including the gas station across the way, and then went in and ordered a little food as a pretense for the interior shots.

| | |
| --- | --- |
| We had a little time to kill before our reservations at Miceli's that evening, so we decided to make a quick trip to the closest Home Depot. I had some reliable information that we could find Monk's favorite Sierra Springs bottled water there. Sure enough right at the front of the store was a huge end stand of Sierra Springs water just waiting for us. We each grabbed a case. Our second Monk mission had been accomplished. | |

Then we were off to Miceli's, the Hollywood Italian bistro featured in "Mr. Monk and the Godfather." Seth and I had dined there and taken pictures last July when we went down for the Monk Episode Guide and Mr. Monk Goes to Hawaii book signings. We were warmly greeted this time by the same singing waiter, Sargis, who had served us on the first occasion. He even remembered us. He seated us in the 3rd floor balcony where we had a great view of the performances. Miceli's is decorated with chianti bottles signed by guests which hang from the ceiling... sort of like ketchup bottles. During the meal, Tony, who's something of an artist, asked for his own bottle to decorate. He created a Monk motif. We all signed it and Sargis hung it up for us.

Miceli's

1646 N. Las Palmas Ave

Hollywood CA 90028

We took a quick walk up nearby Hollywood Blvd. to work off the food and the wine, before heading back to our hotel.

| | | |
| --- | --- | --- |
| | Spinner and Teresa Do Hollywood! | |

DAY TWO: UNIVERSAL STUDIOS

We hit the two major Southern California tourist attractions, Universal Studios and Disneyland, one after the other starting with Universal on the Sunday.

Monk has some Universal connections. First and foremost USA Network comes under the NBC Universal umbrella. Second Monk frequently films on Universal's humungous back lot. One of the easiest to find locations, because it's on the studio tour, is the Mexican town from "Mr. Monk Goes to Mexico."

| | | |
| --- | --- | --- |
| | "Mr. Monk Goes to Mexico" | |

On our studio tour there was a brief mention of Monk as we drove past Universal's New York Street. Our tour guide Brian said that "Monk starring Tony Shalhoub" was scheduled to film soon on the street. I couldn't just let that go by. I had to have more details. I tracked down our guide when the tour was over and demanded to know more... I mean... um, graciously asked for more information. Apparently he'd misspoke (or more likely he was adhering to an outdated script.) Monk wasn't going to be filming soon. They already had filmed there a few weeks ago on New York Street. "There was a fire engine," Brian recalled. "So look for the episode with a fire engine."

| | | |
| --- | --- | --- |
| Seth and I | Brian our tour guide | On tour: I'm in the Shark seat |

Besides the glimpse of Mexico and the fire engine tip on the studio tour, there wasn't much Monk on the lot. We had some fun anyway, particularly at the Blues Brothers' Show. Seth just loves that show and he took the stage when they invited him to join them. Spinner got an invitation of her own and took a spin on the dance floor with Elwood Blues.

| | | |
| --- | --- | --- |
| Fred (Ralph) and Wilma (Spinner) | Tony trying to get us all lost | Seth takes a bow |

The park closed at 6:00pm. They were holding the MTV Awards Show, hosted by none other than Monk guest star Sarah Silverman (Marci Maven, "TV Star," "Biggest Fan") who I understand said something really mean about Paris Hilton during the event, but we missed all that because they kicked out us regular folks. We did some shopping on the Universal City Walk, then went back to the motel.

Once there, we decided to do a little reconnaissance mission. Our little group, minus Ralph who decided to kick back at the hotel, walked the four blocks over to Paramount. It was almost dark and it was Sunday so there was nothing much going on and no outward visible signs of a Monk presence, but we checked out the different gates, wondering which, if any, we'd be going through on Tuesday.

This cheered us up so much that we stopped at the Pavilions grocery store next to our hotel to pick up a couple of bottles of wine. One of those bottles was a cabernet from the Firestone winery, where "Mr. Monk Gets Drunk" was filmed. After all, we had to stay with the theme of the weekend.

Ralph joined us and we sat on the balcony of our hotel room, drank our wine, ate the homemade cookies I'd brought and talked about Monk and music and acting and John Wayne and I'm a little fuzzy on the other topics. On the balcony next door a dance troop was apparently rehearsing and we listened to the choreographer bark out his instructions. It gave the evening a surreal touch. Next to the actual set visit, that may have been the most fun I had all weekend.

DAY THREE: DISNEYLAND

Honestly, Disneyland was sort of a blur for me on the Monday. With California Adventure thrown in, it's like two theme parks in one and there's really no hope of doing everything in one day (especially considering the Disneyland railroad was shut down for the day.) Still we squeezed in as much as we could. I know Spinner and I were both fretting over the lack of communication from the Monk people and not enjoying ourselves as wholeheartedly as we might have. However, I did pick up some lovely Eeyore earrings.


Spinner, Teresa, Tony, Ralph and Seth do Disneyland!

| | |
| --- | --- |
| Tony, Goofy & Ralph at Goofy's Kitchen | Dale and Ralph share a bonding moment. |

| | |
| --- | --- |
| The Jungle Cruise | The Palace of Fine Arts Disney-Style |

| | | |
| --- | --- | --- |
| | | |

DAY FOUR: PARAMOUNT STUDIOS

Saturday (locations), Sunday (Universal) and Monday (Disneyland) came and went: still no word from the Monk people telling us when to show up or where to go or any acknowledgement at all. I wasn't too hopeful, and I don't think Spinner was either, by the time we got back to the motel Monday night. Neither of us slept much. Nevertheless, Tuesday morning we showed up at 8:00am (a time we choose arbitrarily) bright-eyed, bushy-tailed and expecting to be sent away with that tail between our legs.

My friend, chauffeur and Monk Fun Page photographer, Seth, who was in charge of the mega-van, drove us up to the famous Paramount Melrose gate. We presented our I.D.s and I gave the speech, "We're here to see Doug Nabors with the Monk Production."

The guard at the gate did not have our names on his list. My heart sank. I've always wanted a major studio to put my name on their list… you know, in a good way. He directed us to a parking space and to the guest services kiosk across the way, where we could plead our case. Seth stuck around in case we needed a ride back to the motel, which at that moment seemed a likely outcome. We gave the guest services kiosk guard, a tall tough looking bald man, our names and I gave our spiel again: "We're here to see Doug Nabors with the Monk Production."

The guard gave Seth a questioning look. "I'm just dropping them off," Seth told him. "I want to make sure they get in before I leave."

| | |
| --- | --- |
| The guard called the Monk offices as we anxiously awaited word on our fate. I still expected to be thrown out and I was thinking about leading an expedition to the Bronson Caves in Griffith Park where some scenes from "Mr. Monk Gets Married" were filmed. After a very long moment the guard was put on hold. He looked over at Seth. "You can go," he said. "They're definitely getting on." | |

| | |
| --- | --- |
| | That declaration was all it took to make our hearts soar. I don't know if I even said thank you to Seth for driving us over. I do know I missed him during the visit (or, more specifically, I missed his photographic skills.) The guard, who didn't look nearly as tough now, gave us each a guest pass with a map and a list of rules. He drew on Spinner's map to show us where to go. We followed his directions past the administration building and through another gate. |

A much nicer map of the Paramount lot in PDF format


I took a couple of pictures before Spinner noticed the rule on our passes that said No, pictures allowed without prior written permission. Oops.

We managed to find the Monk offices without getting lost. The large Monk sign in the back of a nearby truck and the little Monk signs on the building and by the elevator were easy clues to follow.

We were greeted by office manager Nancy Lopez. She was there with only one other office worker, whose name I didn't catch. I don't think Nancy had any idea who we were, so it was really nice that she'd told the guard to let us in anyway. We told her we were there to see Doug Nabors, because, after all, his name had gotten us that far.

She explained that Doug wasn't due in until 9:30 and then she put in a call to Doug. He wasn't answering his cell phone, so she left a message. She asked us if we wanted to wait. Needless to say, we did want to wait. She told us to take a seat.

FYI the Monk production offices at Paramount aren't exactly luxurious. The furniture was older and merely functional. The floors were concrete, except in our little lounge area, which was carpeted.

There wasn't much in the way of décor, perhaps because they'd only recently moved in. (Their previous digs, for seasons two through five, had been at the nearby Ren Mar Studios.)

They had a few industry magazines spread out on the coffee table. I pretended to read the latest issue of Variety while we waited, but I was really just keeping my ears and eyes open and hoping no one came to the conclusion that we really shouldn't be there. Spinner later told me she had no such qualms at that point. We were in and that was that.


Where in the MonkWorld
are LisaAnne's Kids?!
Featuring Monk Southern California locations!






A good-looking 40 something guy with graying hair came in and the other office worker greeted him as Mac. That has to be location manager Mac Gordon, I thought, an important part of the Monk team. He went in his office and I went back to pretending to read the magazine. Every once in a while busy looking people would wander in and give us strange looks, but only one guy was curious enough to ask why we were there. "They're waiting for Doug," he was told. Apparently that explanation sufficed.
A bubbly young blonde woman entered carrying a tray of lattes. No, I couldn't tell they were lattes from where I was: that's what she said. I'm betting she was an intern. She busied herself in the kitchen and Nancy went out on an errand. Unnamed office worker two offered to get us bottled water or another beverage of our choice and we took him up on it. Primarily, I was interested to know what kind of bottled water they served at the Monk office. Would it be Sierra Springs? No. It was Sparklettes. Same water; different label. Oh, well…. I was covered. I had a bottle of Sierra Springs in my pocket. We'd all gone to Home Depot on Saturday where Spinner and I had both picked up a case. That's our idea of a good time.
| | |
| --- | --- |
| | Nancy returned. We waited some more. After seeing an Emmy ad for The Closer in the Variety magazine I was reading, it occurred to me they might have a similar Monk ad. I checked through the magazine and quickly found one. I reached over to show it to Spinner and simultaneously she had found a similar one in the issue of The Hollywood Reporter she had picked up. We were marveling at the coincidence when Nancy got the call. |
Doug had thought our appointment was for the following week, she told us. He and Tony weren't due in until 9:30am, but we weren't going to be kicked out. She'd been asked to escort us over to the set on stage seven.
Before we headed over I asked Nancy how long she'd been with the show. She said she had just joined them at the beginning of the season when they'd made the move to Paramount. I asked what time they'd come in that morning. "6:00am," she said. (Too early for me: maybe I don't want to work in television.) I asked her who worked in the offices. She explained that the three desks in the middle of the floor were the "Production Office" the location manager's office and other department offices were behind them. The producers were in the next space over and the art department was on the other side. I glimpsed inside that room, but nobody seemed to be in yet.
As we walked over to stage seven she asked where we were from. Everybody asked us that. A red light was flashing outside the stage door, which indicated that they were filming. So we cooled our heels for a few minutes. I think we talked about the weather. When the light went out, we went in.
| | |
| --- | --- |
| We waited just inside the stage doors. From our vantage point we couldn't see much of the set, but what we could see was Tim Bagley (Harold Krenshaw, "Girl Who Cried Wolf," "Election," and "New Shrink") on a hospital set, preparing for another take. He was in a bathrobe, pajamas and slippers. On the side of his head we could see he had a large bandage. He was with another actor we later learned was David Koechner, who looked very familiar to me. (It wasn't until the end of the day that I remembered where I knew him from. He's the star and writer of a Comedy Central show called The Naked Trucker and T-Bones Show. He's not the naked one.) | |
| | |
| --- | --- |
| | There were lots of lights and cables and behind-the-scenes guys and we squeezed against the wall, just trying to stay out of everyone's way. They were ready to do the next take. Extras filed past us: doctors, nurses and patients lined up waiting for their cue to walk through the scene. We couldn't see Tim Bagley at this point, but we could hear the dialogue. Nancy stayed with us. During a brief break I told her how exciting it all was for us, but I asked if it was boring for her. "No," she said. She still thought it was interesting. She did have to get back to the office, however, which she planned to do as soon as she'd handed us off to Stacey (Christenson), the second assistant director. |
It turns out Stacey wasn't available, but there's such a thing as a second second assistant director. On the Monk set that guy is Dominick Scarola and he was appointed our handler, at least until Doug arrived to take us off his hands later in the morning. We thanked Nancy and she took off. (If you're going to write to any of the Monk cast I think it would be cool to include a note to Nancy and tell her what a good job she's doing. She'll wonder how she got so famous.)
| | |
| --- | --- |
| Dominick showed us over to what they called the "video village." This consisted of a couple of monitors facing six director's chairs. The front and center chair was reserved for the director, Jonathan Collier. Jon is also a Monk writer/producer. It was his first time directing for the show. Next to him on one side was the chair of director of photography, Joe Panella. He's an old hand at cinematography, but apparently new to the show this season. On the other side of the director was the script coordinator, whose name I can't remember. Cathy, I think, or Karen. The three chairs behind them are reserved for the producers, including David Breckman, Randy Zisk and Anthony Santa Croce. I got to sit in Mr. Santa Croce's chair and Spinner got to sit in Mr. Zisk's. | |
Dominick, the 2nd 2nd AD, handed us each "the sides" a set of script pages with a cover sheet detailing the scenes to be filmed that day, known as a call sheet. It was small, only about six inches square and very difficult to read. I'm pretty sure Spinner found it impossible. He explained that the crossed out sections of dialogue in the script hadn't been cut, they just weren't being filmed that day. It was the last day of shooting for "Mr. Monk and the Daredevil." Most of the scenes shot that day would be on the hospital set. We were very lucky, since they weren't expecting us, that they were filming on the lot that day. They could easily have been on location and we would have missed them all together. Dominick asked us where we were from. He said he'd introduce us to the director when he returned and he told us to help ourselves to the breakfast spread behind us at the back of the soundstage.
He left for a moment and came back with Tim Bagley. Tim, still in his bathrobe and slippers greeted us and shook our hands. In person Tim is actually quite handsome with striking eyes. He welcomed us to the set and of course he asked where we were from. We told him. "Watch out for Tony," he said jokingly getting into character. "He's very mean." He pointed at the bandage on his head and said in his Harold voice, "He did this to me." He went back on to the set, ready for his next scene.
| | |
| --- | --- |
| | Set costumer Brigit Jones introduced herself to us because she'd overheard that Spinner was from Missouri. She was also from Missouri. A young woman who was working nearby with the sound equipment (at least I think that's what she was doing) spoke up and said she was from Missouri. They both mentioned which towns, but I can't remember them. Sound girl also revealed that one of the guest stars, David Koechner, was also from Missouri (Tipton MO.) I hope they made you feel more at home, Spinner. It made me wonder why everyone wants to leave Missouri. |
Our AD then introduced us to director Jon Collier. He was handsome and gray haired and reminded me a little of Richard Gere. I recognized Jon's name because he's written a couple of episodes ("Fashion Show" and "Hospital".) He joined the writing staff at the beginning of the fifth season. I had no idea he was a director and later learned that it was his first time directing for any TV Show. Although he also wrote and produced for King of the Hill and The Simpsons. He seemed to be doing a great job. He wanted to know if we'd been given a call sheet. We waved our little pages at him. "Oh, no," he said. "Let's get you something a little larger."
He gave us the full size (8 by 10) call sheet and script pages. The busiest man on the set and he was worried about us. Everybody was so deferential to us that I thought they must be thinking we were somebody we weren't, like network executives or Tony Shalhoub's sisters or something.
David Breckman arrived shortly thereafter. We were introduced. I admit I was a little surprised by David. I met his brother Monk creator and head writer, Andy Breckman when he was here in San Francisco for location shooting during the second half of season four in November of 2005. They look nothing alike to me. David appears to be quite a bit younger. And while Andy may be brilliant and um… sort of cute… in a way… David's a handsome guy.
David's pretty smart as well and he took the opportunity to pick our brains. He wanted to know what our favorite episodes were. (This was after he'd asked us where we were from. He even seemed to know why we were there. At least he knew we were fans.) I was trying to think of an episode I knew he'd written like "Mrs. Monk," "Astronaut" and "Dentist," but instead I blurted out the truth, "Mr. Monk Gets Drunk" which Dan Dratch wrote. I think Spinner said "Garbage Strike", which I agreed was one of my favorites, but Andy Breckman wrote that one. Nonetheless David was pleased that we'd chosen newer episodes. "Asylum is one my favorites," I told him, knowing he'd written that, and because it is one of my all time favorite. "I must have seen it at least a hundred times," I said. I could tell he thought I was exaggerating, but I wasn't. I really have seen it at least that many times. We discussed the theme song. Which one did we like best? "Both," I said.
I love Jeff Beal's, but the Randy Newman theme just seems to be a better fit for the show. I think Spinner agreed. I'm not too sure. It was all about David for me at that point. There we were chatting about Monk with one of the creative minds behind it. As big of a thrill as it was to meet the cast later, talking to a Monk writer was an equal thrill for me. The script supervisor, Karen or Cathy (I still can't remember and it's probably neither one) said, "There was a different theme?" [Ed. I saw her name in the credits and immediately recognized it: it was Cathy Mulligan.]
It was news to her. David explained all about how the theme had been changed and the controversy that arose as a result. "Some Monk fans don't like change," I told her.
"Just like Monk," said David.
"It was nothing compared to the Natalie/Sharona debate," I said. We discussed it and I made my pro-Natalie feelings known, as did Spinner, but he wanted his own comments off the record. And so they will remain.
I mentioned that I'd met Andy when he was in San Francisco and I asked when they planned to come up and film there again. He wasn't sure, but thought they might be making the trip in October or November. I gave him my card and told him about the website. He hadn't heard of it, but he seemed very interested and said he'd check it out as soon as he got home.
I asked David if he was living in L.A. now. He's originally a Jersey boy like many of the writers. He said that he was in California permanently now and that he'll shortly be getting married. A little research reveals that his bride-to-be is an actress once featured in a Monk episode, "Mr. Monk and the TV Star", the episode in which David Breckman also appears, for a few seconds as a TV writer. Cameron Meyer, his fiancée played the script supervisor in that episode. I don't know for sure if that's how they met, but on that episode would be my guess.

David asked us "How long will you be here today?"
Of course, we had no idea what our schedule for the day would be like, but I thought I knew the answer to that one "Until you kick us out," I told him.

Doug Nabors finally arrived a little after 9:30am: just when Nancy said he would. He apologized and explained that they'd mixed up the dates. Tony was doing an interview with the biggest German magazine in the world or the biggest magazine in Germany, or something like that. After he was done, he'd be there to rehearse and shoot a scene and then we'd go to lunch. Of course, we were both having such a fantastic time we certainly didn't mind waiting a little longer. Doug mentioned that later we'd be able to see the standing sets, (Monk's apartment, Doctor Kroger's office, the police station) but as it turned out, that never happened.
They were ready to shoot again and they did a scene with Harold and his cousin Joey in a hospital corridor meeting a Kindergarten teacher and her two students. We had an excellent vantage point from the video village. We watched them shoot the same scene I don't know how many times, but it was a lot. If a line was flubbed, they'd shoot again. If someone missed their mark (was standing in the wrong place) or anything like that they'd shoot the sequence again. Or if the Old Navy commercial that was shooting next door brought in a big truck making a loud BEEP BEEP BEEP noise, then they'd have to shoot the whole scene again. ("Nobody buy anything from Old Navy..." shouted an assistant director. He paused to consider the ramifications of that. "... for at least a week.")
Director Jon Collier was just great with the kids. Gently giving them direction and praising their performances. The two kids, a boy (Connor Gibbs) and a girl (Lucy Meyer), were both sweet, well behaved and professional. They'll both be making their small screen debut in "Daredevil."
| | |
| --- | --- |
| Harold Krenshaw | The next scene to be filmed was supposed to be one with "The Gang" as Monk, Natalie, Stottlemeyer and Disher are referred to in the script. Tony, however was still in his interview or getting ready. They decided to go ahead with the scene after that, involving Harold in an elevator in a bright green costume. I can't reveal anymore than that and I can't get the image out of my head of Tim Bagley sitting in his director chair, flipping through a script and wearing that silly green costume as casually as if he were dressed in jeans and a t-shirt. |
The scene was once again interrupted by those inconsiderate Old Navy people who were doing some loud banging, even though, according to the assistant director in charge of discipline (okay, maybe that wasn't his official title) they'd been told that the Monk production had priority. Jon Collier fumed a little while someone ran over to scold the neighbors. Once that was done, they wrapped up the scene pretty quickly. David Breckman said goodbye at that point and before he left he promised again to look at the website.
The regular cast started to trickle in. First I saw Jason Gray-Stanford (Disher). He looked terrific dressed in his street clothes: blue jeans, black t-shirt and sandals. Ted Levine arrived, also in casual clothes, a brown pullover and, if I'm not mistaken, a blue ball cap. They went to the other side of the set where their scene was being set up. I didn't see Tony and Traylor come in. Maybe because I was too busy watching Ted and Jason.

Doug came over to tell us that Tony was there and that they were going to do a closed rehearsal and when that was done he'd introduce us to him. The monitors were switched off for the rehearsal and we couldn't really see it from where we were, but I did get glimpses through an open "hospital" door.
| | |
| --- | --- |
| | Tony Shalhoub and Traylor Howard were there, already in the costumes they'd be wearing for the rest of the day. Traylor wore a short sleeved red blouse and black pants. Tony already had on his Monk outfit. When they were finished with their rehearsal they brought in the stand-ins so they could set up the lighting and stuff and they announced that they were going to move our home away from home, the Video Village. We scrambled out of the way and tried not to trip over anything. Confusion reined (for us anyway) as they tore down equipment and lights and monitors and moved it all to the other side of the set. Eventually Doug came to fetch us, leading us over to the back side of the hospital window to watch them rehearse the scene in Harold's hospital room. The one line description on the call sheet is "The gang looks for Harold." |
When the rehearsal was over the big moment arrived. Doug brought us over to Tony Shalhoub. We shook hands (yes, he shakes hands) and told him our names. I know you know what his first question was: "Where are you from?" We told him. He wanted to know about Monkfest. I said, "I wasn't there."
He laughed. "Neither was I."
But Spinner was, so he asked her about it and they talked about his brother Michael. Apparently Michael won the Monkfest yo-yo contest and has bragged about this to his brother. They were ready to shoot the scene so Tony hurried back to the set. Doug set us up at the newly relocated video village in front of the monitors. I still had my Anthony Santa Croce chair and she still had her Randy Zisk. They went through the scene a few times.
I watched the live action off to my left instead of the monitor most of the time, but I was caught off guard when Tony came running off the set and put his hands on my shoulders as he watched the playback on the monitor. I think I can still feel it. I also said "hi" to Traylor between takes. She looked a little confused, but she said "hi" back and smiled.
They got another shot and Tony came back to talk to us. They were going to get one more and then break for lunch in about ten minutes. He asked if that was okay with us. We just nodded. They did the scene again. He seemed pleased with the results and walked over to us smiling. "Okay is anybody hungry?" he asked.
I was too excited to be hungry and I'm fairly certain Spinner wasn't very hungry either, but we said, "Yes," because we pretty much agree with anything Tony Shalhoub says.

Apparently one of the perks of having your own show at Paramount is a flashy, tricked out ride to zip around the lot in. Tony's is a golf cart. The truth is it's not flashy and it may not belong to him. His name wasn't on it, but he did use it all day. Doug got behind the wheel and advised us to hang on. So did the warning label on the back seat. In fact, it said if we didn't hang on we could be killed! (I've since googled "golf cart fatalities" and discovered what good advice that was.)
| | |
| --- | --- |
| It was about 1 o'clock, I think, as we made the short drive from the stage to the studio commissary. We drove by the water tower and "The Blue Sky," a large wall painted to resemble a typical sky with hazy clouds. Below it is a sunken parking lot area which can be flooded and used as a mock ocean. Tony talked about Paramount Studios and how much they liked it there. He mentioned that they'd just moved over from Ren Mar Studios. I asked him why they made the move. He said that they'd gotten a good deal and that the facilities at Paramount were more extensive and included exterior shooting locations like a New York Street which we also drove by. | "The Blue Sky" and the water tower |
| | |
| --- | --- |
| New York Street | I told him that Spinner and I had been to Universal on the Sunday and a tour guide there had mentioned that a few weeks earlier Monk had been filming on their New York street (which can also serve as a San Francisco street or as a Chicago street or as a whatever-big-city-you-want street.) Yes, he said, they often filmed there. Universal's New York Street and other locations were even more expansive than Paramount's. Tony pointed out stage 19 as we drove up to the commissary. "That's where we filmed Wings," he said. (That's the difference between a network show and a cable show, I guess: you're much closer to the commissary.) |
As we got out of the cart, he pointed out the studio store just a little further down on Paramount Plaza. It was like having Arnold Schwarzenegger give us a personal tour of the Governor's mansion only, you know, way waaaaaay cooler. Tony said he wanted to take us to the store after lunch. "Do they have Monk merchandise?" I asked.
He didn't think so. "But you can get that online, right?" Tony asked.

"Oh, we've got all that," I told him.

"Monk junk," he said. "That's what we call it."

It doesn't matter what they call it, I'll buy it. I just wish there was more of it.
I guess I was expecting the commissary to be a glorified high school cafeteria sort of deal. That notion was quickly dispelled when we entered the relatively elegant dining room and the Maître de scurried over to show Tony and Spinner and I to a table near the front. As we settled in Tony saw someone he recognized at the next table. It was someone I recognized too: Randy Zisk, the Monk executive producer whose chair Spinner had been keeping warm all morning. Tony leaned over to talk to him for a few seconds, no doubt explaining that he had a couple of crazy fans in tow. Spinner took the opportunity to decide our seating arrangements: "We'll sit on one side of the table, so we can both see him," she whispered.
It worked for me. He sat opposite us, the waiter handed us our menus and Tony smiled charmingly. "Order whatever you want," he said. "I'm buying.
The cast of

Wings

The waiter took our drink orders: a diet coke for me, an iced tea for Spinner and "half lemonade and half iced tea" for Tony. He demonstrated how much of each should go in the glass as he gave his order to the waiter. We continued talking or rather he did. He never seemed to be at a loss for words and yet he was a very good listener. It's a gift… just a gift. He discussed the difference between working on Wings and working on Monk.
Wings, it seems, was relatively easy. Work for the actors was four or five hours a day with few locations or action scenes. A one hour show, on the other hand, has a grueling schedule with 12 to 15 hour days in all sorts of conditions. "When do you spend time with your family?" I asked.
"I don't," he said. "Just weekends."
However, he said, since Monk only has 16 episodes per season and the breaks in between filming, it was easier than working on a network show with 22 episodes a year. He said he didn't think he would want to do it. It might be a lot of money, but you'd basically have to give up everything else including the time to enjoy it. I asked Tony, if the sitcoms were so easy to make and so much cheaper, why did they make anything else? "Nobody's buying them," he said.
The waiter brought our drinks. Spinner's curiosity got the better of her and she asked what Tony had ordered. "Half tea, half lemonade," he told her. "It's called an Arnold Palmer." He offered her a sip and she tried it. He likes to share. "It sweetens the tea," he said, "without adding sugar." (I'm not sure how much sense that makes since there's sugar in the lemonade.) The waiter brought over a special hor d'ouevre: three little deep fried thingies. "Compliments of the chef," said the waiter. I forgot what they were called, but Tony said it was like an egg roll. I don't know what the filling was, but they were tasty. I've dined out quite a bit and at some pretty fancy places, but nobody's ever brought me something "compliments of the chef" before. I was really beginning to enjoy the celebrity dining experience. We ordered our meals. I'd asked Tony what he recommended on the menu and he said the mushroom quesadilla was good. I went with that. He ordered the salmon salad. So did Spinner.
We talked about why shows are successful. Why Stark Raving Mad for instance had failed and Monk had succeeded. He said Stark Raving Mad was the victim of heightened expectations. Even though it did quite well compared to most shows it was sandwiched between Frasier and ER, two very popular shows. Any drop off from their audience numbers was considered a failure and so the show was dropped. I don't think we actually discussed why Monk is such a success.

Tony explained a little about how television filming was done: how sitcoms were shot with the three camera method and hour long shows
were done with one camera. They're always shot out of sequence. They start with an establishing shot of a scene and then do different perspectives and then close ups.
They brought our lunches. Tony and Spinner were both surprised by the size of their salads. "We could have shared one," Tony told Spinner.
I'm pretty sure she would have liked that. The quesadilla was delicious, but it was rather difficult to eat and hang on every word Tony said and ask the occasional question to keep him going, all at the same time. We talked about the proliferation and popularity of reality programs and how cheap they were. "You don't have to pay writers," he said.
Clearly, that's not a good thing.
| | |
| --- | --- |
| I asked him who was at the next table, even though I already knew. "That's Randy Zisk." He explained Randy's role with the show as executive producer and sometimes director. He said that Randy had directed one of the first season shows in Toronto and Tony had liked him so much that when they decided to make the move to L.A. he'd asked Randy to take on the executive producer job. He named a few of the episodes Randy had directed. I said I'd really enjoyed his direction in "Mr. Monk and the Leper." In fact, I thought it was brilliant. He should get an Emmy nod for it. I also added that Randy had been nominated for an Emmy for "Mr. Monk Takes His Medicine." "You really know this stuff," Tony said. | |
I asked Tony who Randy was with. He leaned over the table and lowered his voice. That was Michael, an experienced and talented director who they'd been after for a long time and now he was going to direct "Mr. Monk and the Birds & the Bees" the episode which would begin filming the next day. "What's his last name?" I asked.
Tony smiled sheepishly. "I knew you were going to ask me that. I don't remember."
I guess we'll have to wait until the episode airs to find out. [Ed. It was Michael Watkins.] We discussed the upcoming episodes and he shared a few spoilers. He mentioned that Dr. Kroger's son would be in an upcoming episode. "Troy?" I said.
Cody McMains

(Troy Kroger)

"That's amazing. How do you remember that?" he asked.

I shrugged. I didn't think that was a tough one to remember, but let's just say it's a gift. I have a great memory for names, but I frequently can't remember where I put my keys. He asked how often I watched each episode. "Well, some more than others, but I watch each one at least twice the night it airs." (Sometimes three times if I really like it and then a few more times during the week.)
"I read credits when I can," I told him. "These days they make them so small you can hardly read them."
He nodded in agreement. "They squeeze them down to promote the next show."
It's one of my pet peeves so I was happy to talk about it. "Aren't the actors, and everybody else in the credits, upset about that?"
"It's a problem," he agreed, nodding gravely. "It's a big problem."
We discussed how Spinner had flown on a plane for the first time ever, just to come out and see him. He was astonished by this and wanted to know all about her first flight. She told him she didn't even realize they'd taken off, but the landing was kind of rough and she didn't like the turbulence. However, she tried to think of it as just "bumps in the road." "Only there's no road!" Tony exclaimed with more than a touch of sympathetic anxiety.
They discussed attendance at Monkfest and Tony mused about showing up at a future event. I asked about Doug who started as an assistant and was promoted to associate producer and Tony said he'd been promoted again this season to co-producer. Right on cue Doug walked in. "Is it time?" Tony asked him.

"No, not yet. You've got a few minutes" said Doug.

I didn't know how much longer we'd get to enjoy Tony's company so I reached for my bag. "I have a few gifts from some other fans," I told him.



I pulled out the drawings that Mississippi Monk fan Liv had done and had sent me the week before. Tony took them and exclaimed "Oh my god! These are unbelievable." (He pronounced it "unbeleeeevable.") He showed them to Doug and pointed to the one of himself and said "I've never looked so good. Who did these?" he asked. I told him "Olivia Monteith, Liv . She's from Mississippi."

Click to enlarge


© Olivia Monteith 2007
If so requested by the current owners and subjects of the original artwork these images will be removed.




He called over to Randy Zisk, "Randy, you've got to see this. These are amazing." He told Randy they were from a Monk fan in Mississippi and again we gave him Liv's name. Randy said, "These are great" and showed them to his new director without a last name. He introduced us to Randy who asked, you guessed it, where we were from. Tony informed Randy that Spinner had flown for the first time just for the occasion.

While they looked at the sketches I took out the bracelets which Liv had enclosed for Emmy and Tony's daughters and I gave him the short note she'd written. He read it aloud.

To the cast of Monk,

Please accept these sketches as a token of my appreciation for the hard work you put into making such an entertaining and original show. It's far too rare in a time when brainless "reality" shows seem to be taking over.

I have also made and enclosed three bracelets, one for Emmy and the other two are for Josie and Sophie, if they want them.

Sincerely,

Olivia Monteith

When he read the part about "brainless reality shows" Doug, Tony, Randy and Michael all nodded their heads in agreement. When he got to the part about the bracelet being for Emmy and his daughters, Doug mentioned that Emmy Clarke would be in later that day, so we could give one to her. (It turns out, she wasn't. Maybe he got the date mixed up.) "That's so sweet," Tony said, examining the bracelets. "She made these?"

"That's right," I told him.



I also presented him with the montage of South Park characters, mostly drawn by Liv, which another fan, Kim (Fan4sure), had put together. They were all highly amused. Tony was busy admiring them when the call came to go back to the set. Randy Zisk handed the pictures to Doug and Tony gave him the bracelets. Doug handed them all back to me and asked if I'd hang on to them until we got to Tony's trailer (which was the first I'd heard that a Tony trailer visit was on the agenda.)

Seeing that Spinner had barely touched her salad, Tony had them box it up for her so she could take it with her. The check arrived. Tony and Doug huddled briefly. I can't be sure, but it seemed to me that he was asking Doug to figure the tip for him.
After eyeing the desserts on the way out, Tony once again tried to steer us towards the studio store, but Doug headed him off at the pass. No time: we had to get going.
We piled back into the golf cart. I finally worked up a little nerve. "Doug?"
"Yeah?"
"Would it be okay if I took some pictures?"
"Sure," he said. "Just don't take anything embarrassing, you know…"
"Like someone picking their nose," Tony interjected.
I laughed. "That's not the kind of picture I want," I told him.
| | |
| --- | --- |
| | As we zipped through the Paramount lot Tony pointed out the beautiful landscaping. In only a minute or two we arrived at Tony's trailer. That's right, Tony Shalhoub's trailer. We went in. It was pretty swanky, (you know, for a trailer) with an entertainment center, living/dining area, separate dressing room/bath area, a kitchen with a lot of light wood cabinetry and a big side by side stainless steel refrigerator. The first thing that drew my eye was the Monk bobblehead box on his kitchen counter. "Hey," I said, "You got your bobblehead!" He smiled and shook his head a little. "Right, I got my bobblehead." (That's got to be a little strange, having a bobblehead of yourself.) |
Tony took Spinner's leftover lunch and put it in his refrigerator. (Which I'm sure made it taste a whole lot better. Right, Spinner?) I took out Liv's and Kim's gifts, intending to leave them with Tony, but he stopped me. "Bring those," he said. "We'll give them to everyone."
I just left the drawing of him, a South Park picture and the two bracelets on the table and put the other stuff back in my bag. Tony opened up a drawer in the kitchen. "You wanted a picture, right?" he asked.
Either he was psychic or Spinner had mentioned that she wanted an autograph. If she did, I don't remember that. (She tells me, she did.) He started pulling handfuls of 8X10s out of the drawer. It was like the coolest magic trick ever. He quickly sorted through them and spread some out over the counter. "I've got six different ones," he said.
I can't remember what they all were, only that I'd seen them all before. "And I've got a group shot," he said.
Spinner chose a picture which he signed. I wanted to get one for Liv first and I tried to pick the most artistic one. I told him it was for the artist and he asked for her name again so he could personalize it. While he did that I took out another one of the South Park pictures so he could sign it for Kim, which he did, and I handed Spinner the Monk ad she'd brought along for him to sign. He commented that it was an old one. (First season, I think.) "And one for me," I said, picking out a picture.
Doug had a few other things ready to sign which apparently people had sent in. It seems like Tony just signs whatever he can whenever he has a spare moment. When all the picture signing was over, Spinner asked if Tony wanted to have his picture taken with her. He did. She gave me her camera. I took a bad picture of Tony and Spinner. It's the only kind I know how to take. However, thanks to computer technology, I was able to make it somewhat presentable.

Doug reminded Tony he was late, so we hurried out to the golf cart. Tony took the wheel. "They let you drive?" I asked.
"Sometimes," he said with a mischievous grin. We headed to stage 7. I took a picture.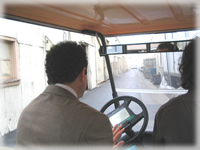 Terrific, right? As we were speeding along we passed by Jerry Levine and Tony slowed to a stop to greet him. They just said hello and Tony drove on. "That was Jerry Levine," Tony explained, "He's directed a lot of episodes."
"And he was Kenny Shale, Sharona's boyfriend, in 'Mr. Monk and the Twelfth Man'," I added, because I simply can't resist. Tony once again seemed impressed by my ability to remember who played what. (Too bad I can't think of any way this superpower could come in handy, unless I decide to become a casting director.)
Tony was a little late and they went right in to shooting the scene. It was the same scene they'd been doing before the lunch break, but now they were taking it from different angles, doing close-ups, etc.. The video village had also been moved and our chairs had been removed. No room for them. We stood and watched and tried not to trip over cords. Jerry Levine, inspired by his meeting with Tony, also dropped by to watch them shoot. Everyone greeted him warmly. It's that kind of a set. People just love to hang around. I managed to take a few (really bad) pictures at about this time.
| | | |
| --- | --- | --- |
| 2nd 2nd Assistant Director, Dominick | Co-Producer Doug Nabors | Jerry Levine and the AD in Charge of Discipline |
Traylor Howard on the Set

As soon as they got to the first break Tony pulled me aside, "Get the pictures," he said. Traylor left the stage at this point. We didn't see as much of her during most of the day as we did of the others. In retrospect, it's likely that she was running over to check on her baby Sabu whenever she had the opportunity.

I pulled out the drawings of Ted and Jason. Tony took them and as Jason came over to us Tony held up the drawing of Jason for him to see. Jason was astonished, or at least he acted astonished. I think he really was. That drawing is terrific.

Tony handed it to him. "Who did this?" Jason asked and Tony again turned to us for Liv's name.
Ted wandered over to see what the commotion was about and Tony happily presented him with his. He's not as effusive as Tony or Jason, but he seemed pleased and said "Well, look at that," and chuckled.

Tony having heard it a few times by now managed to remember Liv's name and told Ted that Olivia, a Monk fan in Mississippi, had drawn it. Ted and Jason looked at each others pictures. Jason pointed at the corner of his and read aloud, "Not Keifer Sutherland." They laughed, obviously recognizing the reference to "Mr. Monk Goes Home Again."
After they had their drawings Tony introduced them to me and Spinner. He also told them about Spinner's first plane ride and that I knew everything about the show. When asked we told them where we were from. He then had me give them each a South Park picture, which Jason just flipped over. He picked out his little likenesses and read the quotes aloud. "This is how I stand," Jason laughed.
"That was the one with the purple suit," said Ted.
They loved pipe-in-the-head guy and Alice Cooper. Jason pointed at the little Ambrose figure. "That's not you is it, Tony?"
"It's John Turturro," I told him.

Tony looked at it and nodded in agreement. "It's Turturro."

"Some people think I'm dangerous," read Jason. "Which one was that?"

The excitement must have been too much for me. I drew a blank. I think it was "Godfather."
We walked over to their director's chairs where Ted and a few crew members also participated in the which-episode-is-that-from game that Jason had started.
| | |
| --- | --- |
| Spinner and Ted Levine's Mustache | They happily displayed the drawings of themselves to whoever came by. I asked them to autograph one of the South Park pictures for Liv, which they promptly did, but since it was Jason's they had autographed he immediately asked for another for himself. I had Jason sign another one for the loyal poster here who goes by the name of Crystal Smith. He remembered the character and the episode. He laughed and signed. As long as everybody was signing stuff I pulled out my friend Tony's copy of Silence of the Lambs and asked Ted to autograph it for him. He did. (It was about this time that I noticed my camera wasn't working.) |
There was some discussion of an upcoming episode. Apparently, it may have a funhouse/house of mirrors scene and Jason said they'd already done a funhouse scene. Ted said that he didn't think they had. Brigit agreed with Jason. Ted asked me: after all, Tony had told him I was an expert. I shook my head no. "In the Circus one," Jason said.

No, no funhouse in Circus.

"Carnival?"

Spinner, Brigit and Jason's left ear
Nope, not there either.
Of course, for all I know they may have shot such a scene for one of these episodes or another episode and then not used it (or he may have been thinking of the female reproductive system featured in "Mr. Monk and the Red Herring.") I just know it didn't air and it was fun to agree with Ted.
I found Ted Levine to be quite charming. Not as garrulous as Tony or as energetic as Jason, but composed and self assured with a great sense of humor and a bit of a goofy side. If I were going to spend a lot of time with somebody else on the show I'd want it to be him.
Jason talked about a house that he'd wanted to buy, but an inspection had turned up something wrong with it and the sale had fallen through. "We're still looking," he said. Sorry, I've got no idea who the other part of the "we" is.

Jerry Levine on the Set


Jerry Levine as Kenny

We were joined by Jerry Levine. After the introductions ("So where are you guys from?") Jerry discussed his guest starring role on Twelfth Man. He thought he'd done a good job and he pretended to be hurt that they hadn't asked him to reprise the role. He wanted to know what our favorite episode was. "That one" I told him.

Ted laughed. "You're quick," he said and he raised that eyebrow at me.

"Garbage Strike," Brigit put in knowing Jerry had directed it. Jerry brushed that off. "I wasn't in that, I just directed it." He left laughing.

Tony asked us to sit and he let Spinner take his director's chair. Traylor came back just before shooting resumed. Tony presented her with her drawing. She only had a moment to look it over before they got back to work. She gazed at it thoughtfully and just said, "Wow." It was a good "wow", Sort of a modest, she-was-amazed-anyone-would-take-the-time-to-draw-her "wow".
| | |
| --- | --- |
| They shot the scene again and again and again. At one point Tony had a concern regarding the closet in Harold's hospital room: it was completely empty. Would a hospital closet really be completely empty just because someone, in this case Harold Krenshaw, had removed his belongings? Wouldn't there be blankets or supplies or something? Tony notices these things. He cares about these things. The script supervisor, Cathy or Karen or whatever her name was, pointed out that when they shot earlier scenes with Harold removing his belongings there was nothing in the closet then, so there couldn't be something in the closet now. She told Jon Collier this and Jon went over and told Tony this. | |
Realizing that they'd have to re-shoot scenes from another day with Tim Bagley, who'd already left, Tony gave up on inserting that bit of realism.
Once more they did the scene again and again and finally Joe Pennella, director of photography, asked Tony "Are you happy?"
Tony shrugged, "I make a good living." And yes, the scene was good for him. The scene was finally finished.
We dutifully followed Tony back out to the golf cart. He explained that they'd be shooting close-ups for a scene that had already been shot on location at a rooftop somewhere in downtown Los Angeles. But it would take a while to set up and so we'd go back to his trailer for a while. Fine by us. Once again Tony got behind the wheel and Doug in the passenger seat. Spinner and I rode behind.

Jason, done for the day, was headed, presumably, back to his trailer. Tony slowed down and teasingly asked Jason "Need a lift?" knowing there was no room left in the cart.
(Of course, we would have been happy to let Jason squeeze in.) "No, I'm fine," Jason said smiling.
Tony zipped on ahead and was quickly caught in a little studio sized traffic jam as a large truck was ineptly maneuvering through a narrow street and another golf cart was also ahead of us blocking the way, totally frustrating Tony's zipping. Doug suggested we park it and walk, but Tony was having none of that. He had his little cart and he knew where he wanted to go. Jason walked past laughing at Tony. "It's the tortoise and the hare" he said.
Finally Tony was able to zip on and parked the cart next to the trailer.
I think it was about 3:30pm when we once again found ourselves in Tony's trailer. I'd made a quick call before we left the soundstage, telling Seth to leave town without me. He had to be at work the next morning and we had planned to leave at 5:00pm. I had no intention of cutting the day short. I decided to fly home the next day.

In the trailer Tony hung his Monk jacket on the back of a chair and undid the top button of his shirt. He seemed momentarily at a loss as to how to best entertain us. He suggested we watch a new episode. We agreed.
Now which episode? At first he suggested "Mr. Monk and the Naked Man", but Doug had a counter proposal: "Mr. Monk and the Buried Treasure". He had just gotten a DVD with a blocked picture, which he and Tony explained meant that the picture was all good to go but the sound still needed some tweaking.

I'm under orders from Tony himself not to reveal too much about the episode, so I'm not going to describe the plot except to say that Dr. Kroger's son Troy who was featured briefly in "Mr. Monk Gets a New Shrink" gets a much larger part in this one. He's still played by the same guy, Cody McMains, but he's a little toned down from the earlier appearance.

Set Visit Tony Shalhoub
It's an excellent episode with great performances all around, but what was most interesting during the viewing were Tony's reactions and Tony watching our reactions.
When he was watching the episode he was looking for mistakes and not infrequently finding them. He was also explaining the technical aspects to us, such as where they would need to add inserted shots and what locations they had filmed scenes and other details. He didn't seem to find his own performance as amusing as Spinner and I did, but he obviously thought Ted and Jason were the funniest thing ever, in fact he said so, and laughed at all their scenes. I suppose it's a lot easier for him to take a step back and just enjoy the comedy when he's not thinking about his own performance. Traylor is also very funny in this. The episode is nicely balanced with everyone getting a lot to do. Lt. Disher in particular gets a little more attention than usual and he's hilarious. The comedy is also nicely balanced out with some very good drama, suspense and mystery.
| | |
| --- | --- |
| | When we were done, Doug got everyone a round of drinks: Fresca for Tony, Diet Coke for me and something clear for Spinner, I think it was a seven-up. Tony made a few phone calls, rearranging for a TV Guide interview which had been postponed to the next day (not for our benefit I hope.) He also called someone about the 1408 premiere to find out when it would be and if his schedule could be cleared for it. (Apparently it all worked out, because he did attend the premiere on the 12th.) We briefly discussed the film. He said he only has a very small part. |
He joined Doug at the computer on the kitchen counter for a short casting session, looking at pictures of actors for roles still to be cast for the next episode up, Mr. Monk and the Birds & the Bees. One was a teenage girl about Julie's age. Tony thought she was too blonde. "But Emmy is blonde" said Doug.

Apparently they were trying to cast the role with someone who looked like Julie. "Not that blonde," said Tony.

I never thought Emmy was particularly blonde either. "She'll have to change her hair" he said.
They discussed a few other roles. One was a funeral director. One was a landlord, I think. I hope they didn't mean Monk's landlord. The role was originally played in "Panic Room" by Willie Garson. I like him a lot. I wouldn't want anyone else to get the role.

We were joined by Scott Collins who needed to go over a few things with Tony including the episode we had just watched. After the standard introductions, they popped the DVD back in and started going over changes and mistakes, mostly to do with the sound, which Tony had noticed during the first viewing.
| | |
| --- | --- |
| As nitpicky as fans can be, Tony is twice as persnicity. He noticed everything. Gift/curse, because apparently some things cannot be changed and others can. He was annoyed that the background sounds and music drowned out the dialogue at times. He noticed that the sound Randy makes when sucking threw a straw is not the right sound. "The cup is full. There shouldn't be a bottom of the cup slurping sound," he noted. He also noticed that a car door hit a wall once, but we heard the sound twice. I think his super powers are way better than my super powers. He's Notices Everything Man. | Notices Everything Man |
| | |
| --- | --- |
| Tony Shalhoub and Snoop Dog | After they finished dissecting the episode, Scott told Tony that the network wanted to air "Mr. Monk and the Rapper" in the second slot, the week following the season premiere of "Mr. Monk and His Biggest Fan." Tony wasn't down with that. He expressed his preference for showing "Buried Treasure" in that slot. He thought it was a very strong episode, but apparently the network wants the one two punch of the two big guest stars: Sarah Silverman and Snoop Dog. It remains to be seen who will win out there. (Ed. Not surprisingly it was the Network.) Scott was hesitant at first to reveal, in front of us, who the guest star was for "Rapper", but I told him the news had already leaked out about Snoop Dog's appearance. "Well, some leaks are good," said Scott. |
I asked Tony how much input the network actually gets in the production of the show. "They do get some," he said. There's a lot of give and take.
I asked Scott what his job was. "Post production," he said. I asked if he worked with Craig Pettigrew (Monk music editor.) "Yeah, I work with him all the time. Do you know Craig?" he asked.

"We haven't met in person," I said, "but he answered a bunch of questions for me. He's a nice guy."

Scott agreed and Tony gave me a strange look. In a few weeks I'll let you know if it's the same one Monk gives Marci Maven in the new episode.

Craig Pettigrew
Tony wondered what was taking so long setting up the next scene or scenes. Doug picked up his phone to check. Scott was about to leave, "It was great to meet you guys," he said. "Drop by any time."
I laughed. "You probably don't want to tell us that," I said.
(I was picturing me and 50 of my closest Monk message board friends showing up at the Paramount gates in a big bus full of penguins and sock monkeys, driven by a horse, all shouting, except the horse of course, "Scott Collins said to drop by anytime.")
| | |
| --- | --- |
| It was about 5:30pm and Doug said they still weren't ready for him. It would be a little longer. Tony got a bright idea. "Let's go over to the studio store," he said. "Are they still open?" Doug asked. "Let's go find out," said Tony. "Let me make a phone call and find out," Doug said sensibly. It took him a little while. The operator apparently had some trouble connecting him, but he finally learned that the store had closed at 5:00pm. Tony was bummed, but just then the call came in saying they were finally ready for him on the set. | |
He drove us over himself and recommended we go over to craft services and pick up something sweet while they rehearsed. They were about to shoot close ups on a fake made of rubber, looks like metal, helicopter pad that had been set up outside between the stages. Poking around in the craft services truck was an attractive notion, but not as fun as watching them rehearse. Tony explained more about the way they were going to be shooting the scene and how they'd adjust the lighting so that it would match the time of day of the original location establishing shot that had been done earlier. It was a dazzling Action-Natalie™ sequence. They finished rehearsing and the stand-ins arrived.
| | |
| --- | --- |
| | It was getting cold as they started to lose the light and Tony noticed that Spinner looked a little cold. He had Brigit bring Spinner a parka just like the one Traylor had been wearing that day, but dark green instead of silver. They were ready to shoot so they asked everybody to move back, "except our honored guests" said the AD on the scene, who led us over to the other side of the faux heli-pad to give us a better view of the scene… or get us out of the way... one of those. I was simultaneously embarrassed and impressed, which happened a lot that day. They'd shot one sequence a few times and then break and reset. |
Sabu and his nannies (that's right, nannies plural) drove up in their own little golf cart. During the break Traylor hurried over to cuddle with her little bundle of joy and we followed her since we were both eager to meet the new addition to the Monk family. I don't know much about these things, but he looked pretty big for his age and he was dressed in blue with a cap and little blue booties: dark hair, big dark eyes. He seemed to be a very happy baby. He laughed at Spinner. He grabbed my finger. Tony walked over to play with him. "Oh no, he's the one that makes you cry," Traylor warned her son jokingly, but Sabu just laughed at Tony, too.
Tony led us over to the craft services truck and gave us a grand tour of the approximately eight foot by four foot space. He ran down the available menu and Spinner chose Fig Newtons. Tony took a Nature Valley Granola peanut bar. "These are good," he said. So I took one too. He's an expert on everything else: I figure he knows craft services cuisine as well as anyone on the planet. Spinner asked him about the Turkish coffee that he had mentioned in an interview for the TV Guide channel last year. He said they only get that coffee while they are on location.
| | |
| --- | --- |
| Denise joined us in the truck. I wasn't sure exactly who Denise was, but I suspect she was Denise Hooper the makeup department head. It started to resemble a Marx Brothers' scene as we all squeezed in the little truck. It was time to go back to the set. Traylor went into the craft services truck just before the next shot and came out with a spoonful of peanut butter. I thought it might be for Sabu, (I don't know, do you feed babies peanut butter?) but she ate it herself. When she was done, they shot the scene from a different angle a few more times. | |
By the time they finished the scene it was about 7:30pm and Tony was ready to call it a day. "That's it for me," he said.
He asked Doug if he could make sure we got off the lot all right. Doug said, "Of course."
Tony asked if we had parked on the lot. We explained that a friend had dropped us off that morning and that we'd just be walking back to our hotel. This seemed to worry them both a great deal. That part of Hollywood is sort of a high crime area at night, but having lived in some of the roughest parts of Brooklyn and Queens, not to mention the tenderloin in San Francisco, I wasn't too concerned about a short walk down Melrose. However, it was really sweet that they were.
"I'll just give them a ride," Tony said.
Well, I was thinking of asking Doug to show us those standing sets before we left, but we jumped all over Tony's offer. What better way to end the day? "Sure," said Spinner, obviously unable to believe her luck. I know I was unable to believe mine.

Once again we got in Tony's golf cart. We were joined by Denise who wanted to hitch a ride back to her own trailer. Doug upon seeing his spot had been usurped ordered, "You, off!"
The tactic was unsuccessful, so he sat in her lap, which I'm sure made the ride that much more exciting for them both.
Once again back at Tony's trailer, I asked Tony and Doug to give Emmy her picture since she hadn't come in after all that day. Doug said he would give it to her and picked up the bracelets. Tony took two from him. "Those are for the girls," he said and Doug kept the red one for Emmy.
Spinner grabbed her lunch from the refrigerator and we were ready to go. As we were getting in his car, Tony asked, "Was it worth it? The auction, I mean?" as if he were worried we hadn't had a good time.
"Well, that was for charity," I told him. "But it would have been worth it anyway."
His car was a small, blue hybrid. One noticeably cool feature was a little view screen which gave him a complete view behind the car. I told him where our hotel was, on Vine just a half-block off Melrose. "Behind the grocery store," I said.
"Pavilions?" he asked.

"Right"

"I know where that is." He drove us off the lot through the Bronson Gate and the few blocks to our hotel where we thanked him and said good night.
That's it for the set visit. I'd already checked out of my room and the motel was fully booked, so Spinner let me bunk with her and Ralph for the night. We babbled on about our visit for the rest of night and I jotted down notes.
We had a few hours the next day before we had to get to the airport, so we hit Hollywood boulevard in search of Monk junk. We didn't find much, but I picked up a copy of a "Mr. Monk Meets the Godfather" script. That's the one where Randy says, "Some people think I'm dangerous." You can bet I'll never forget that line now.