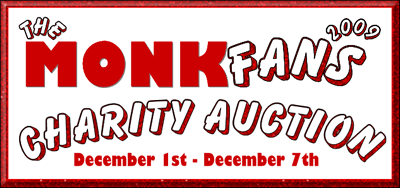 Greetings Monk fans!
Auction's Over!
Welcome to the Monk Fans seven day charity auction. All proceeds from the auction will be donated to the Atherosclerosis Research Fund at Cedars-Sinai Hospital in memory of Stanley Kamel.
You may bid on three different lots (photos and descriptions below). Please email your bid to me at monkauction@eviltwinltd.com. Include the lot number you're bidding on and the maxium amount you are willing to bid. I will send you an email confirming your bid.
The Fine Print: I don't want to be an auction-nazi, but please don't bid if you don't have the dough and expect to pay pronto if you win (within seven days). If you back out of the deal, the second highest bidder will get the goods. If you are not in the USA, that's dandy, but I'm going to have to tack on an extra postage fee for anything you win. You have until midnight (PST) on December 7th, that's a Monday night, to send in your bid. If your high bid is the same amount as someone else's the first bid received will be honored. Payment can be made by Paypal or by money order (USD). Sorry no exceptions. If you can't pay by one of those methods, don't bid. I think that's it, but if you have any questions send an email to me, teresa1643@eviltwinltd.com.

Lot #1
Tony Shalhoub's Jeans and a Monk Hat
That's right, these are Tony Shalhoub's black denim jeans as featured in last year "Clothes Off Our Backs" eBay auction and donated by the winner of those pants Raven of Wisconsin. a.k.a. Amy Marerro. (Thanks, Raven!) To complete the ensemble we've got a lovely brand new, never worn, blue Monk baseball cap.
Click on images to enlarge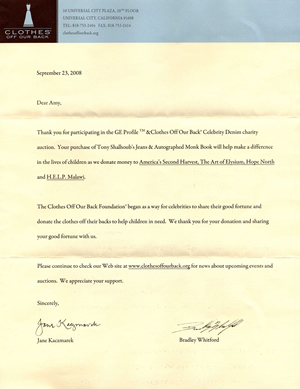 Letter of Authentication
(You know, for the traveling pants.
You're just going to have to take my word on the hat.)
Current high bid for lot #1 is $150
The winner is Metacomet!
Lot #2
An Exclusive Monk Water Bottle Autographed by Tony Shalhoub and a Bunch of Other Cool Monk Stuff
This is an exclusive Monk water bottle, never sold online or in stores, autographed by da man himself, Tony Shalhoub. Included in this lot is a fabulous mint condition never-been-out-of-his-box, yearning-to-be-free, Monk Bobblehead. There's also a Monk refrigerator magnet, a Monk snow globe and... that's it. Cool, right?
Click on images to enlarge
Current high bid for lot #2 is $350
The winner is Mary Catherine!
Lot #3
An Autographed Monk Script
and an Autographed Monk Novel
Lot #3 includes a Monk script ("Mr. Monk and the Daredevil) autographed by, you guessed it, Tony Shalhoub and a Monk novel, (Mr. Monk and the Dirty Cop) autographed by the author, Lee Goldberg. I will also include a rare copy of The Ellery Queen Mystery Magazine (November 2009 issue) featuring an Artemis Monk story by Mr. Goldberg. I'm going to throw the bookmark in too.
Click on images to enlarge
Current high bid for lot #3 is $260
The winner is Paul!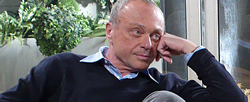 Remember, Monkpeeps, this is for charity and to honor the memory of Stanley Kamel who played Monk's beloved therapist, Dr. Charles Kroger, for six seasons. I'm not going to put a minimum bid on any of these, I'm just going to ask you to look into your hearts and decide for yourself.
If you'd like to skip the auction and donate directly to Cedars-Sinai that would be equally awesome, if not more so. Here's their info:
Cedars-Sinai Medical Center
8700 Beverly Blvd Suite 2416
Los Angeles CA 90048
or donate online at: https://www.discoveringforlife.org
Please enclose a note specifying that your donation should go to the Atherosclerosis Research Fund in memory of Stanley Kamel.
Once again, if you do want to place a bid email me at monkauction@eviltwinltd.com before Monday, December 7th at midnight.
Many thanks to Amy, Kim, Doug Nabors, Tony Shalhoub, David Breckman and Lee Goldberg for the donated items.
Good luck!
Here's the response I received from the Cedars-Sinai people last month.



Where in the MonkWorld
are LisaAnne's Kids?!
Featuring Monk Southern California locations!