February 25, 2009
Tim Bagley has played Harold Krenshaw since he first appeared in season three's "Mr. Monk and The Girl Who Cried Wolf". Harold is Monk's fellow patient and nemesis. No one is quite as good as Harold at pushing Monk's buttons... and vice versa. "Mr. Monk Fights City Hall" is Tim's seventh Monk appearance.

I first interviewed Tim right after his fourth appearance in "Mr. Monk and the Daredevil."
He's been in a few more episodes since then, so I thought it would be great to catch up with him and he luckily agreed: "I'm always happy to answer any questions for your Monk Fun Page" he told me. So here are the questions... and the answers.
Click on images to enlarge


Since "Daredevil" you've been in three more episodes ("Mr. Monk's 100th Case", "Mr. Monk Gets Hypnotized" and "Mr. Monk Fights City Hall"). What is it about Monk that keeps pulling you back in?
I don't know why they keep calling Harold Krenshaw back, but I'm thrilled when they do. I think we can all agree that Harold could use some help from Dr. Bell.

A green unitard in "Daredevil", a nude scene in "Hypnotized": is there anything you wouldn't consider doing for them on Monk?
I won't roll around in a box full of snakes. Being challenged is the most exciting part about being an actor. I'm always challenged to explore areas outside of my comfort zone, and I love that about the way they write for Harold Krenshaw.
How much time did you have to prepare for the scene where Harold gets naked?

Tim Bagley in
"Mr. Monk Gets Hypnotized"

The naked scene was a last minute addition to the script. I got it the night before I had to do it, so there wasn't a lot of time to go to the gym. I think I did some sit ups in the trailer, and then they served lunch. I assured myself that Harold Krenshaw didn't have to have a good body. I remember they served Mexican food, which I love. Then I had a bunch of cookies for dessert, and went out and shot the naked scene all fat and happy.
How do you prepare for that?
You take a couple of deep breaths, and go for it.
Where was that filmed?
In a shopping center parking lot out in Malibu. There were shoppers shopping all around me. I ignored them, and focused on keeping my stomach pulled in.
How much did you actually get to wear?
All I had on was a little thing that looked like a tiny sock that covered my kibble and bits. I also wore tennis shoes.

Harold is a city councilman in "Mr. Monk Fights City Hall." How do you think someone as disagreeable as Harold got elected?

Harold Krenshaw: "I'm Free"
Don't kid yourself, there are a lot of "disagreeable people" who get elected to the city council. Plus, I think Harold is a very organized, and dedicated worker, who keeps his desk extremely clean.
Monk saved Harold's life in "Daredevil". Isn't he the least bit grateful?

No. Harold has a short memory.

What was the most memorable part of filming the most recent episode "Mr. Monk Fights City Hall"?
There is a scene when Natalie spits water out at Harold. The first couple of takes the water just kind of dribbled out of her mouth, nowhere near my face. The director asked her to spit it on my face. I was afraid she was being polite, so I went up to Traylor in between takes, and told her not to be afraid to spit on me.
The next take she really went for it, and got me good. The water went in my ear, and everywhere. I remember playing the scene and looking up at Tony, and his eyes were closed and he was laughing. I don't know how I got through that without laughing.

Do you get input into how Harold is written? Is there much improvisation?




Traylor's Spit Take
I've never talked with Andy Breckman or any of the amazing writers about how Harold is written. He is their invention, and when I receive the scripts I always understand what they want me to do with the character. They write very clearly delineated characters.
| | |
| --- | --- |
| | Sometimes we do improvise a little in some of the scenes. It's always within the structure of the scenes. For example, I think the only time I improvised in "Mr. Monk Fights City Hall" was right after Natalie spit on me, and then she came over to help me. When she touched me, I yelped, "Oh, don't touch me!" |
It made logical sense within the structure of the scene for Harold to protect himself from being touched at that moment.
Sometimes the writers will write something suggesting us to improvise a little. For example, they might encourage Harold and Adrian to fight over the order of the magazines in that first episode I did. Then we'll improvise that moment. That's how Tony came up with the line, "Go to hell Harold."
Of course it's become a running bit, where the writers have Adrian and Harold telling each other to "Go to hell."

Do you know if Harold will be back in season eight?

We can only hope.
Has anyone suggested a spin off show for Harold when Monk ends?
Mmm... I like the way you think.

What actors do you most admire?

I love all actors. Especially the ones who work hard to be the best they can be at their craft. Not so much the lazy, boozy, druggie ones who just want to be in National Enquirer.

The Official Website of Tim Bagley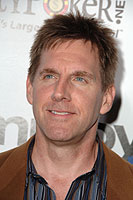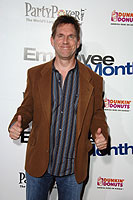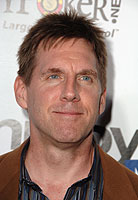 Where in the MonkWorld
are LisaAnne's Kids?!
Featuring Monk Southern California locations!